For enterprises with agricultural ingredients in the supply chain, CIBO offers a scaled, end-to-end solution that helps you make measurable and verified progress on sustainability initiatives like Scope 3 reduction, reduced climate risk, ESG, CDP and SBTi goals.
CIBO has launched CIBO Grower, the platform that streamlines the process of recruiting and enrolling farmers into incentive programs for regenerative agriculture. Create grower incentive programs and leverage CIBO's convenient workflows and scaled data to rapidly qualify, enroll and recruit participants. As growers adopt practice changes, easily verify those changes and export data on program outcomes to include in sustainability reporting.
Read on to learn more about the CIBO Grower features that help enterprises meet sustainability goals.
Create a Variety of Programs.
The integrated CIBO Program Engine allows enterprises to create incentive programs that scale regenerative agriculture in your supply chain or supply shed. Examples of programs include:
Carbon Insets and Offsets: Incentivize practices that reduce carbon emissions, and pay growers based on verified carbon reduction and sequestration.
Certified Regenerative: Identify and recruit farmers already using regenerative practices and offer a premium per bushel, or increase regenerative practice adoption in your supply chain with certified premium pricing.
Pay-for-Practice: Offer per-acre payments or incentives for new practice adoption. Claim carbon reduction for your own Scope 3 reporting, or sell any carbon credits generated.
Discounts: Offer discounts on seeds or services for growers who plant cover crops and adopt other climate-friendly practices.
Sustainability-minded organizations already know the value of regenerative agriculture. CIBO Grower provides the ready-built infrastructure needed to accelerate development and execution of grower programs that make regenerative practices a reality in the supply chain.
Rapid Qualification. Streamlined Enrollment.
Paperwork. Receipts. Field boundaries. For growers in your network, determining eligibility and enrolling in programs is a hassle.
CIBO reduces the pain of qualification while accelerating qualification and enrollment. It starts with a qualification process that allows growers to simply draw or upload field boundaries and verify CIBO's remotely sensed practice history data. Growers immediately see programs for which they may qualify and receive an estimate of the financial return. Down to the field level, growers can then choose the programs that are the best fit for their operations, and enroll through a streamlined process.
By utilizing the CIBO Grower platform to recruit and enroll growers, you help smooth out the process and improve odds of enrollment and success.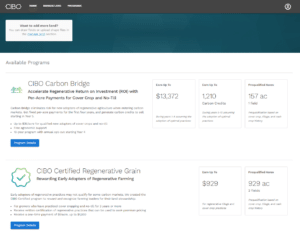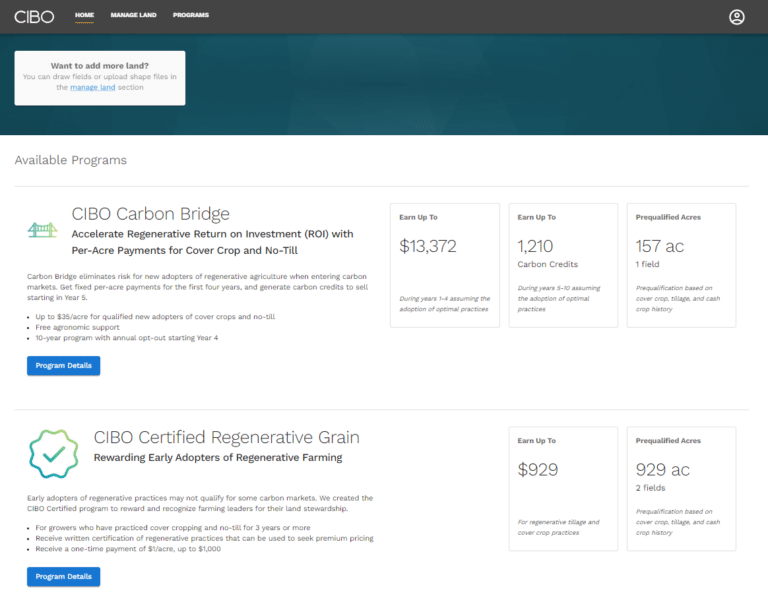 Verify Practices and Report on Your Program Results.
Once you've enrolled growers in your program, you'll need to verify that they implemented regenerative practices and determine the outcomes. That's why the portfolio of fields enrolled in your program rolls up into the CIBO Enterprise application, where you can track progress and outcomes as they occur.
With CIBO's advanced computer vision technology and in-season and historical practice detection, verifying program practices doesn't require boots on the ground at every field. Quantify the carbon impact of your incentive programs through scientific crop modeling, and easily export key data for inclusion in reports to investors and consumers. Or bring program and supply chain intelligence to your team via API integration with your other enterprise applications.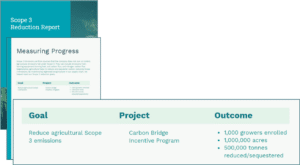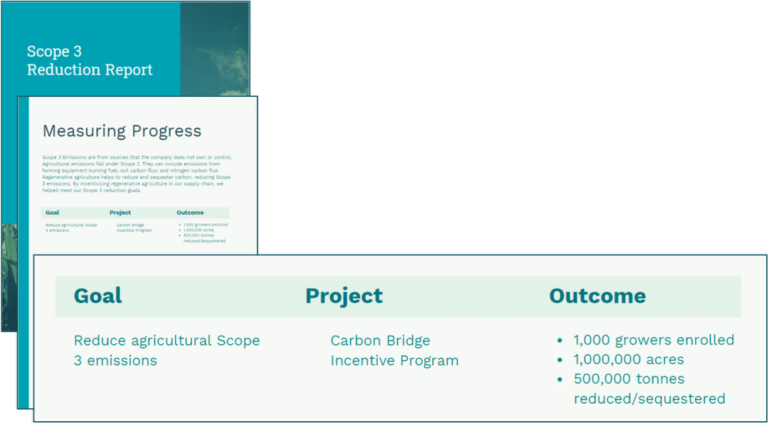 Whether you want to reduce Scope 3 emissions, meet consumer demand for sustainable ingredients, or reduce supply chain risk in a changing climate, CIBO Grower will help you reach your targets through program creation, recruitment, enrollment, and reporting. Contact us to learn more or get started.