CIBO's platform allows you to find and discover rich information about individual parcels and fields.
Valuation | Field Quality | Owner Information | and More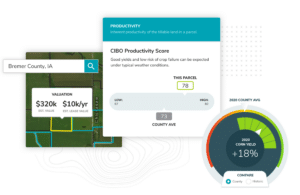 Powerful search
Quickly explore millions of parcels using advanced search criteria like owner, productivity, size, value, and more.
Objective insights
Understand the true potential of a field via exclusive, science-driven insights and proprietary land data.
Simple, intuitive access
Easily access public land data like soil maps, weather, and ownership combined with CIBO insights—for every parcel.
Evaluate crop performance at any time!
CIBO Lab lets you evaluate yield estimates against multiple scenarios, using advanced, science-based crop growth simulation technology.
FIND OUT MORE ABOUT CIBO LAB
Start exploring land today!
Try our free version, or enjoy unlimited reports and even richer land details for only $9.99/mo.
CHOOSE YOUR PLAN