By Nilovna Chatterjee
The use of agricultural land and management practices over the years are key drivers of the environment both locally and globally. Thus, monitoring changes to agricultural landscapes helps us better understand food production, environmental conservation efforts and climate change. CIBO helps the agriculture community gain early insights into the crop acreage estimates through an early analysis of the growing season with actual, objective data.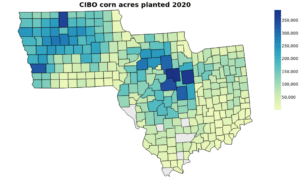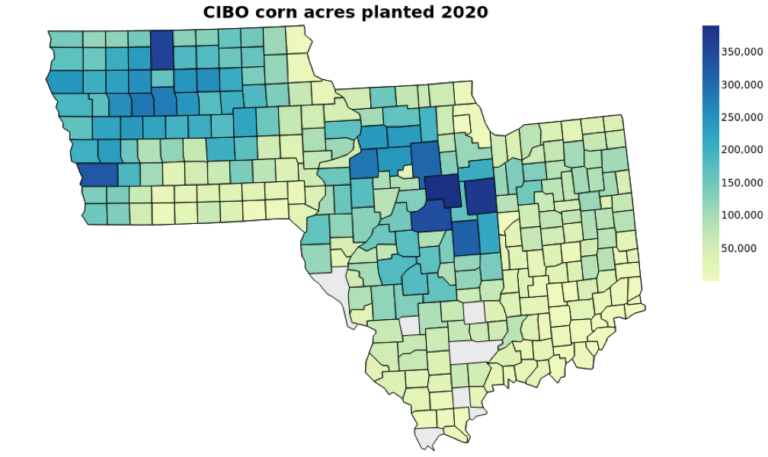 Figure 1: CIBO estimated corn acreage for the year 2020*
The USDA and NASS produce the cropland data layer (CDL) using remotely sensed data to estimate the total crop acreage, disaggregated into major crop types (corn, soybean, cotton, etc.). This data's temporal analysis broadly helps understand agricultural land cover and land-use changes (LCLUC) and tracks food supply. The crop acreage data can also help us address a wider range of questions such as grassland conversion to corn/soy/cotton, crop area production in response to commodity price, deep dive into temporal trends in land-use changes, and investigating conversion between individual crop types (crop rotation).  Addressing some of these questions require sub-county assessment, which mostly relies on accurate pixel data. 
Over the past decade, the country's total corn acreage has ranged between 88 and 97 million acres. In 2019, the entire area under corn was 91 million acres which went up by two million acres from the previous year. The total acreage of soybean over the past decade ranged between 75 and 90 million acres. Last year in 2019, the soybean acreage was 80 million, a whopping 10 million acres lower than the year 2018. The total cotton acreage ranged between 9 and 14 million acres over the past decade.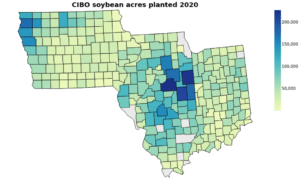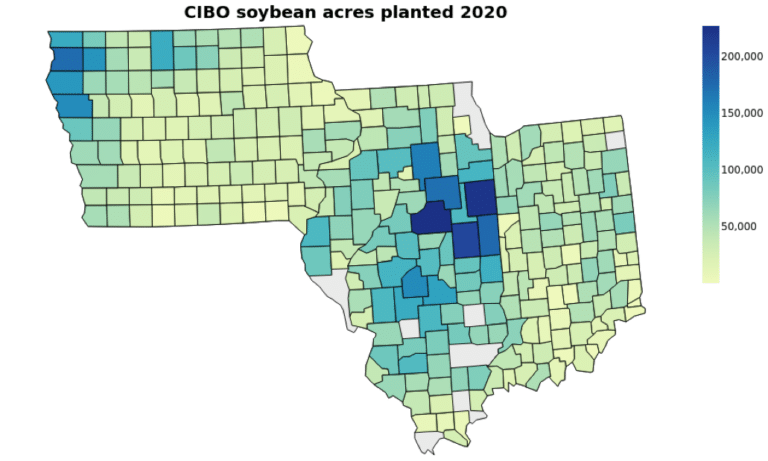 Figure 2: CIBO estimated soybean acreage for the year 2020*
The CIBO crop inference engine uses satellite imagery to estimate the planted acres for parcels across the corn belt (Figure 1 and Figure 2). The information generated by CIBO's statistical models shows that total acres of corn planted in three major corn-belt states of Illinois, Indiana and Iowa for 2020 were 27 million acres which is an increase of 8 million acres from the previous year. Individually, all three states showed a significant increase in corn acreage in 2020 (Figure 1). The state of Indiana almost doubled their corn acreage from 2.1 million acres in 2019 to 4.08 million in 2020. We believe this trend is a reflection of market forces. The fall in soybean prices last year led many farmers to plant corn this year. But next year may be a different story: both corn and soybean prices are currently trending upward, and growers will have some tough choices to make. And any number of events between now and next spring's planting can drive decisions in one direction or another. As CIBO's methodologies develop, we'll continue to provide updates on this evolving landscape.  
The CIBO platform gives farmers, investors, lenders, and all other stakeholders in the agriculture and rural land economy the proprietary, parcel-level insights and easy access to publicly available data they need to power an agricultural ecosystem that's environmentally and economically enduring. The USDA announces national acres planted insights. Those reports tell you what will likely happen, CIBO's capability is the first to tell you where and why it is likely to happen. This insight creates new opportunities for actionable and hyper-local farming, agribusiness, sustainability and trading decision-making. Our forecasts are run through our breakthrough modeling and simulation technology. Try it now for free! 
*We are showing planted acres of corn for counties which were estimated to plant at least 25,000 acres of corn and soybean.
About Nilovna Chatterjee 
Nilovna Chatterjee is a Crop Modeling Scientist at CIBO Technologies, a science-driven software startup. Prior to CIBO, she worked for the University of Nebraska-Lincoln, Department of Agronomy and Horticulture as a postdoctoral research associate. She holds a Bachelor of Engineering, Master of Engineering from Vellore Institute of Technology, Vellore, India and a Ph.D. in Forest Resources Conservation and Soil Science from the University of Florida, Gainesville.