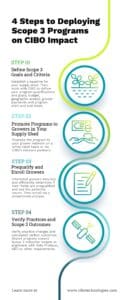 Step 01 – Define Scope 3 Goals and Criteria
Establish a baseline for your supply shed. Then work with CIBO to define your program qualifications and goals, budget, geographic area(s), grower payments and program start and end dates.
Step 02 – Promote Programs to Growers in Your Supply Shed
Promote the program to your grower network on a white-label basis or via CIBO's network partners.
Step 03 – Prequalify and Enroll Growers
Interested growers securely and efficiently determine if their fields are prequalified and see the potential return. Then enroll via a streamlined process.
Step 04 – Verify Practices and Scope 3 Outcomes
Verify practice changes and calculated carbon outcomes. Report progress toward Scope 3 reduction targets in alignment with GHG Protocol, SBTi or other requirements.
Download the Infographic