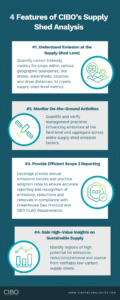 4 Ways CIBO's Supply Shed Analysis Provides an Understanding of On-the-Ground Practices at Scale
#1. Understand Emissions at the Supply Shed Level
Quantify carbon intensity metrics for crops within various geographic boundaries, like states, watersheds, counties and draw distances, to create supply-shed-level metrics.
#2. Monitor On-the-Ground Activities
Quantify and verify management practices influencing emissions at the field level and aggregate across entire supply shed emission factors.
#3. Provide Efficient Scope 3 Reporting
Leverage precise annual emissions factors and practice adoption rates to ensure accurate reporting and recognition of emissions, reductions and removals in compliance with Greenhouse Gas Protocol and Science Based Target Initiative FLAG Requirements.
#4. Gain High-Value Insights on Sustainable Supply
Identify regions of high potential for emissions reductions/removal and source from verifiably low-carbon supply sheds.