James W. Jones
Distinguished Professor Emeritus at the University of Florida
Scientific Letter in Support of CIBO
December 29, 2020
Dear Mr/s. Reader,
I am writing to express my strong support for the systems approach and science-based modeling implemented by CIBO Technologies. I strongly support CIBO's innovative integration of different technologies to address critical questions by those involved in agricultural systems, including those who are directly or indirectly involved in land use and land management activities. The integration of 1) the SALUS process-based crop model for modeling crop, carbon, and sustainability at scale, 2) advanced satellite imagery for detection and quantification of crop type, growth stage, tillage practice, cover crops, and biomass residue, and 3) big data and simulation analysis for evaluating the impact of weather, management, genetics and soils on yield, soil health, soil carbon sequestration, and greenhouse gas reduction is a novel and effective use of advanced technologies that will benefit those involved in agriculture as well as the soil and other natural resources.
As a model developer and user of process-based models, and as a scientist who has dedicated most of my career to building models for improving agricultural productivity and sustainability, I can unequivocally confirm that the scalable CIBO approach is proven as a valid scientific approach for quantifying soil carbon gains and losses, and verifying reduction in greenhouse gas emissions in response to farmers' management decision.
The process-based model has been around for over 30 years and has been extensively tested, as recent reviews have shown. I was the leader in developing the soybean and other CROPGRO based crop models in the now widely used DSSAT system for research and development. The SALUS is the next-generation model developed by Basso and others building on models like the widely used CERES models. Thus, SALUS contains the latest science in addition to the well-established knowledge that I, along with a few other pioneers in this field, created during my research at the University of Florida, starting in the late seventies and continuing until my recent retirement.
CIBO Technologies has developed an innovative way to further advance these technologies for practical use in providing actionable science-based information for agricultural systems. CIBO is clearly the leader in applying these technologies at scale to US cropland. It has created a new, scientifically valid, agriculturally based carbon credit marketplace that supports regenerative agriculture and creates new opportunities for individuals and organizations to reduce their carbon footprint while benefitting agriculture at the same time.
In summary, I strongly support this breakthrough application of the well-established science-based approach developed by Prof. Bruno Basso and the CIBO Team.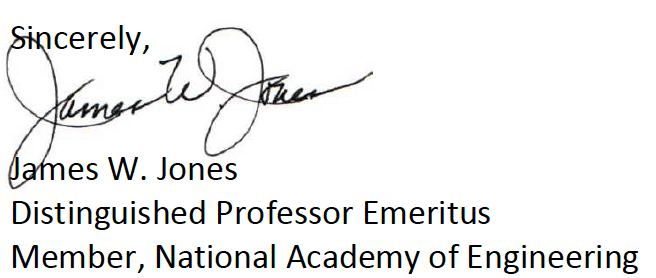 Download the Letter