Bruno Basso
University Foundation Professor at Michigan State University
Co-Founder and Chief Scientist of CIBO Technologies
Scientific Letter in Support of CIBO
East Lansing, December 29, 2020
Subject: Letter of support for CIBO Technologies
To Whom It May Concern:
I am writing to provide some background on the science-based geospatial system approach adopted by CIBO Technologies to quantify and verify regenerative potential on any agricultural field of the US and to strongly support the application of this method.
Let me briefly introduce myself. I am a University Foundation Professor, Co-founder and Chief Scientist of CIBO Technologies and agroecosystem scientist in the Department of Earth and Environmental Sciences at Michigan State University. I lead a multimillion research laboratory on crop systems models and digital agriculture. My research falls broadly in the area of sustainable and regenerative agriculture, with the goal of understanding the impacts of complex interactions between soil, climate, management and genetic on plant and soil health, crop productivity and environmental sustainability. My research aims to improve decision-making across a broad spectrum of stakeholders, from the smallholder to the industrial producer and policymaker at all scales.
I am the developer of the soil-plant-atmosphere model called SALUS (System Approach for Land Use Sustainability). The model evaluates the impact of agronomic management on crop productivity, water, and nutrient fluxes. The model is used in more than ten international projects and tested in different parts of the world against observed data in US, Mexico, France, Germany, Netherlands, Italy, Australia, India, Brazil, Argentina, China, Philippines, Tanzania, Malawi, Ghana and others.
My recent work on monitoring crop performance with sensors and modeling has raised significant interest from the public, who is concerned about the excessive use of fertilizers and pesticides in farms, and has been the subject of various special research reports appearing both nationally on the radio (NPR) and TV (PBS NewsHour), and featured in local and national newspapers and magazines (Forbes, Bloomberg, Mother Jones, etc). I have authored over 200 scientific publications in journals that include Nature Sustainability, Nature Plants, Nature Climate Change, PLOS One, Bioscience, Global Change Biology, Environmental Research Letters, and many other highly ranked scientific journals.
I serve on the scientific board of different scientific journals and chair a committee at the Board of Agriculture and Natural Resources of the US National Academies of Sciences, Engineering and Medicine on soil dynamic information systems. I have chaired the United States Department of Agriculture Panels and search committee for open rank positions in the field of Agriculture and Environmental Sciences. I am a Fellow of the American Society of Agronomy since 2013 and Soil Science Society of Agronomy 2015. My research has been recognized by distinguished awards such Pierre Robert Precision Agriculture Award from the International Society of Precision Agriculture, and the L.R. Ahuja Agricultural System Modeling Award from the Soil Science Society of America. I am a consultant for the United Nations Food and Agricultural Organization (FAO).
As a scientist who has dedicated most of his career to building models for improving agricultural productivity and sustainability, I can unequivocally confirm that the scalable CIBO Technologies science-based approach is proven as a valid scientific method for quantifying soil carbon gains and losses, and verifying reduction in greenhouse gas emissions in response to farmers' management decision. CIBO Technologies' approach consists in the integration of the process-based crop model (SALUS) with advanced satellite imagery to model crop yield and soil carbon sequestration and greenhouse gas emission in different management systems. The soil carbon dynamics in SALUS have been extensive tested against long-term soil carbon data. The scalable computer vision approach is capable of identifying cover crops and no-tillage fields to verify the adoption of regenerative practices.
CIBO Technologies is a leader in applying this approach at scale, to US cropland and creating a new, scientifically valid, agriculturally based carbon credit marketplace that supports regenerative agriculture and creates a new opportunity for individuals and organizations to reduce their carbon footprint.
Sincerely,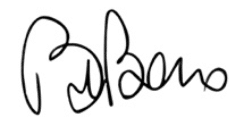 Bruno Basso, Ph.D
University Foundation Professor
basso@msu.edu
Co-founder and Chief Scientist
CIBO Technologies
bbasso@cibotechnologies.com
Download the Letter