Purchase Carbon Credits!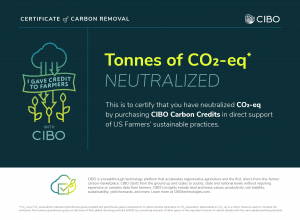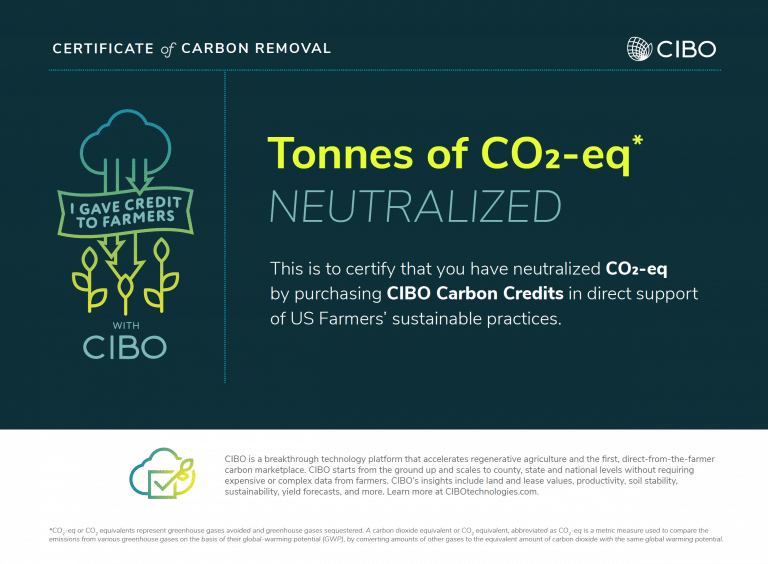 2021 is the year for individuals and organizations to make commitments to go carbon neutral. With CIBO, it's easier than ever to meet your carbon commitments and support American farmers. CIBO Carbon Credits are generated from US farmers' regenerative practices, which help rebuild the soil and reduce greenhouse gas emissions. Here's why organizations choose CIBO.
"Being a Minnesota company, supporting US farmers and helping advance regenerative agriculture is important to us.  CIBO's farmer first philosophy aligns with our goals and buying from their market place made the whole process amazingly simple." 

-Craig Weinstock, Managing Partner & Co-Founder – White Pine Consulting Group
CIBO Impact helps companies follow through on their carbon commitments by creating a first-of-its-kind, voluntary carbon marketplace for direct access to carbon credits generated by farmers. The purchase of offsets creates an immediate and permanent impact. Because they are based in agricultural practice, they are subscribable and renewable every year.
"My dad was in the seed business and I grew up with a deep respect for the farming community. So when it came time to buy my first ever carbon credits I turned to CIBO Impact. With a few quick clicks I showed my support for America's farmers and their hard work in regenerative farming; and as an added bonus, I offset my daily Starbucks habit for the entire year."

-Rich McCracken, Adjunct Teacher at the University of Minnesota
When it comes to climate change, enterprises and individuals alike are looking for a real, science-based way to make an impact. That's where CIBO Impact comes in.
Whether you want to offset your daily coffee (1 carbon credit), your new pet (1 carbon credit), your annual driving and commute (5 carbon credits), or your entire life (1,304 carbon credits on average), CIBO Impact makes it possible. The CIBO Carbon Marketplace can scale to meet your carbon footprint offset goals.