By Nathan Smith 
Timing is a critical determinant of crop yield. Crop-management activities such as planting, fertilizer application, and harvest must be properly timed to achieve desired yield levels. However, what happens when a storm blows in and throws off the growth? CIBO's data-driven simulation tool takes the characteristics of the crop and its environment into account to estimate the timing of key growth stages. This is essentially important when storms like the recent derecho push the agricultural to try and figure out what the damage will be. 
What was the home stretch of a potential record crop year in central Iowa and northwest Illinois turned into a nightmare for those in the path of last week's derecho. Beginning in Eastern South Dakota, the derecho entered Iowa producing winds in excess of 120mph, flattening fields, destroying grain handling facilities, farm buildings, houses and businesses before exiting into Illinois. The USDA estimates that as many as 8 million corn acres and 5.6 million soybean acres of Iowa's 30 million total crop acres were damaged, along with early estimates of 25 million bushels of storage capacity. The derecho entered into Illinois and began to weaken before finally dissipating over western Ohio. Fortunately, the storm may have only affected around 1.5 million crop acres in northern Illinois with counties along the I-80 corridor seeing the highest damage. This event lasted for 14 hours and traveled 770 miles at an average speed of 55 miles per hour.
Although we can place early estimates of damage to structures, such as farm buildings, grain handling facilities and businesses, the bigger question may be the final effect of yield on crop acres damaged by the high winds. The USDA has predicted a record national corn yield of 181.8 bu/a and 53.3 bu/a soybean yield, which doesn't take into account these acres. While the final impact to yield will be months down the line, CIBO is estimating that the damage could be between 10-40% of the corn crop yield in this area. 
As we begin to grasp the scope of the damage it appears the corn crop has suffered more than the soybeans. The greatest impact of yield in each field will be determined by the amount of corn plants that were "snapped" versus "lodged". Current evaluations showed most of the Iowa corn crop in the mid to late dough stage (R4) so any disruption, or breakage, of the stalk would have a detrimental impact on final yield. However, lodged plants may still be able to continue to maturity but not have the ability to fully support ear development (yield), resulting in smaller ears with shallow kernels.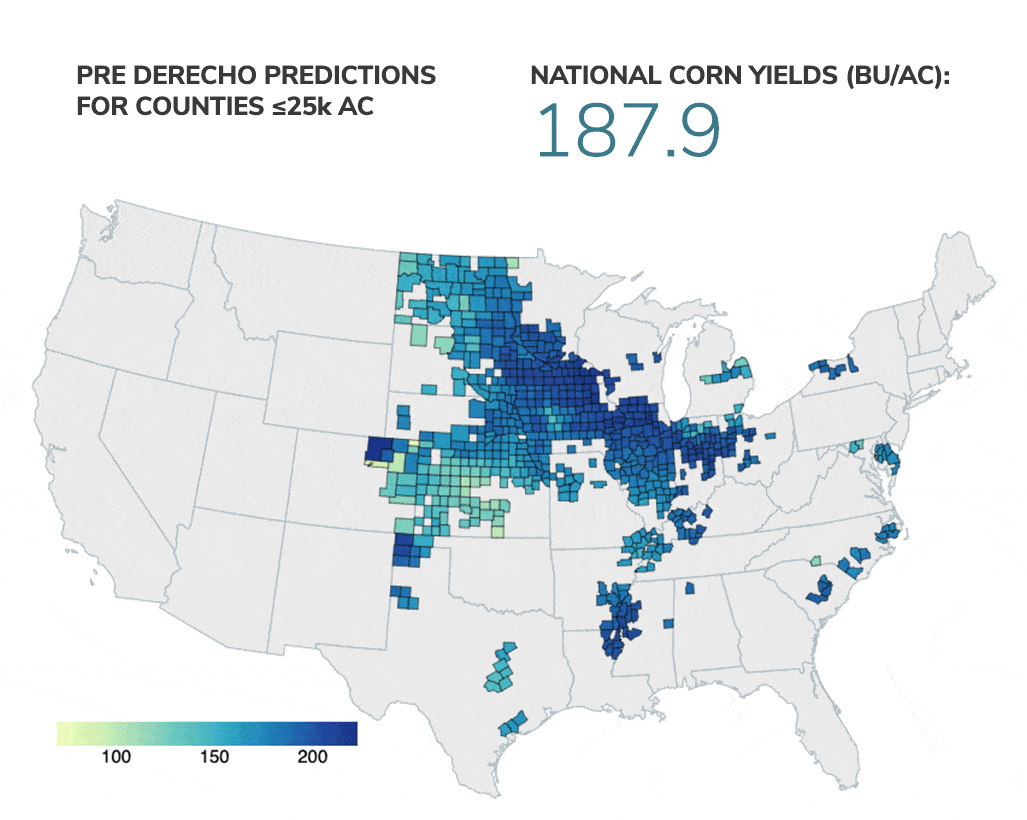 Regardless, farmers with impacted fields face a slow and tough harvest. Harvesting lodged crops can be a slow process resulting in quicker depreciation from additional machinery hours, increased labor costs, and a disruption in end-user deliveries. Other issues that may arise as a result of lodged, or broken plants, include an increase in disease and the possibility of decreased grain quality. However, the combine doesn't lie and the full impact of yield won't be known for a couple of months. Even when calculating the amount of potential corn yield disruption at 100 – 400 million bushels, and a possible reduction of total acres harvested, it won't put much of a dent in the USDA's prediction of 15.3 billion bushels.  
Agriculture leaders in these affected areas are scrambling to figure out how much of a yield reduction they are seeing and with all of the storage that was destroyed it will be difficult to find a home for the grain as it is harvested, leading to all kinds of logistical issues. If we weren't in the time of Covid-19, the demand for ethanol would be heavily impacted by the storm. However, since some of the plants have shut down until demand picks up, there's less of a strain. Major seed companies in these regions may have had seed production impacted by the winds. Large end-users may also see some disruption to their supply lines. 
The Yield Simulator in the CIBO platform is updated continuously so that anyone interested in land has the best information and most accurate forecasts available. It's free to register. Try it now.
For more information about how CIBO uses corn phenology in our product, read Connecting Corn Phenology with Yield.
About Nathan Smith 
Nathan Smith is a Senior Agricultural Analyst at CIBO, a science-driven software startup. Prior to CIBO, he worked in agriculture for Monsanto and The Climate Corporation. He holds a Bachelor of Science in Agricultural Business and Management with a minor in Agronomy from Southern Illinois University.