CIBO Crop ID generated up to five months before USDA CDL with greater accuracy and resolution
CIBO is excited to announce that our computer vision team has generated their latest CIBO Crop ID data set identifying cropland cover for the entire continental U.S. for crop year 2023.
The 2023 CIBO Crop ID is a cropland data layer containing approximately 100 billion pixels. To put this into perspective, an 8K resolution TV screen has about 33 million pixels. The interior display of The Sphere in Las Vegas, the world's largest video screen, has 256 million pixels.
The CIBO science and modeling team combined our computer vision and AI capabilities with an innovative machine learning approach to identify cropland cover with greater accuracy, resolution, and up to five months sooner than the USDA's Cropland Data Layer (CDL), relied upon by many in the industry to understand the amount of major commodities grown in the previous crop year. Each CIBO Crop ID pixel represents 10×10 meters, compared to the CDL's 30×30 meter resolution. CIBO's achievement delivers higher resolution, providing an industry-leading ability to identify crops and land features and deliver high-confidence measurements.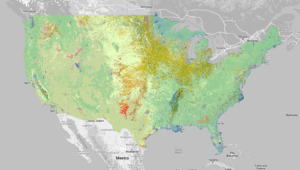 CIBO's Crop ID raster contains 132 land use labels across the continental U.S. Verified against independent field data, the CIBO model's ability to identify corn, soy and cotton out-performs the USDA CDL, creating exceptional confidence in the results.

The new cash crop data will be available to users of the CIBO Impact platform. Integrating this data set into CIBO Impact brings a number of benefits to users, such as:
Faster and easier program enrollment: When growers or their trusted advisors identify their fields, CIBO Impact remotely senses those fields' practice history. Users confirm or update the sensed information, speeding up the process of prequalifying for and enrolling in sustainability programs. The improved accuracy of CIBO Crop ID data compared to USDA CDL makes this step faster, while the earlier availability of the data means users benefit sooner.
Confidence in scaled analysis: Companies baselining their supply shed emissions need accurate modeling results. Cash crop is one of the inputs fed into CIBO's validated ecosystem model, which enables CIBO Impact users to baseline greenhouse gas (GHG) emissions in their supply shed. Better accuracy in cash crop identification leads to even more precise modeling results, giving enterprises the confidence they need when using this data to plan and execute supply shed interventions or identify new geographies for program focus.
Plan interventions sooner: For companies with net-zero goals, 2030 is arriving fast. Availability of cash crop and modeling results up to five months sooner than before means companies have that much more time to plan their interventions for the following year.
To learn more about our 2023 CIBO Crop ID data, join our upcoming webinar, "Scaling Annual Crop Tracking Across the U.S." on November 16 at 12:30 PM Central / 1:30 PM Eastern. The webinar will feature Shane Bussmann, Senior Data Scientist, Ph.D., and Karen Olsen, Computer Vision Scientist, Ph.D., two of our esteemed scientists who helped to develop our innovative approach and model.
—
For more information on CIBO Crop ID or to see how you can get started deploying your own conservation, Scope 3 or agricultural carbon credit program in CIBO Impact, contact our team.