The 2020 WASDE Companion
How CIBO Adds Depth, Speed & Accuracy
Download this e-Book
A Look Back On 2020 Predictions, Process & Yields
Enterprises and individuals with agriculture in their supply chain rely on in-season yield predictions to plan, manage and price their products, strategies and investments. The USDA publishes the World Agricultural Supply and Demand Estimates (WASDE), a monthly, in-season forecast report. The prediction data is based on surveys, grower interviews, physical field visits and statistical sampling. The results are refined every month. In January and February following the fall harvest, the USDA revises all its numbers for the season based on actual reported yields. This is effectively a rewriting of history that can have profound implications for commodities pricing, business planning and investment decisions.
The USDA process is a painstaking one, relying on surveys, interviews and field visits. It does not easily scale. As the annual honing of yield results indicates, this process contains its own barriers to accuracy. Advances in artificial intelligence, computer vision, detailed simulation and modeling provide forecast data that is more detailed and granular than the USDA, while also orders of magnitude faster to produce.
This is not to say that the WASDE is unimportant. The USDA WASDE is authoritative, recognized, and very wide in scope. It covers national production for a large number of crops including projected international demand, inventory of stockpiles and pricing.
Taken together, the USDA WASDE and yield predictions produced with the push of a button provide a new and radically faster, more efficient and highly reliable way to achieve faster insight, deeper decision support and more detailed understanding not just of what is happening across the nation, but also where and why it is happening in the counties, regions, farms and fields you care about.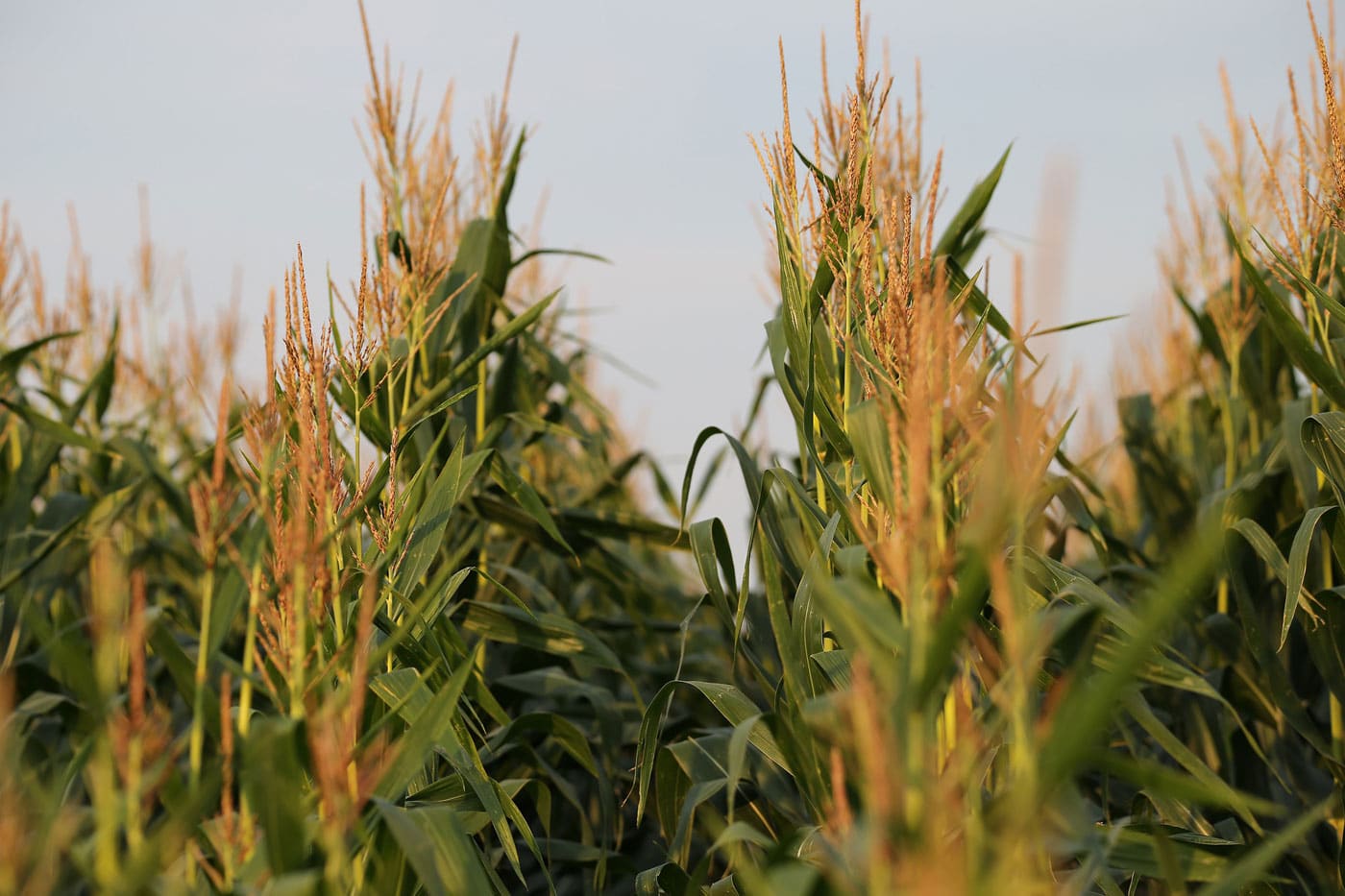 Unpacking 2020 Yield Predictions
2020 was an unprecedented year. For the nation's corn, soy, and cotton growers it was one for the history books. From early bumper yield predictions to unprecedented weather, from the continued need for rain across much of the US and weathering a devastating derecho event, there was more interest in understanding yield and productivity than ever before.
The USDA publishes its monthly WASDE report with national forecasts for crop yields, demand and pricing. They use a process that relies on surveys, snail mail, phone interviews and in-person field visits.
…corn and soybean planted acreage estimates are made using data obtained from a survey of farmers conducted during the first two weeks in June. Expected corn and soybean yields are obtained monthly, August through November, from two different types of yield surveys. Acres to be harvested for grain are measured in June and monitored through the season. Final acreage and yield are measured in December.
In-field visits are especially cumbersome. The USDA does their best to execute monthly field visits where cornstalks and ears are counted, ear diameter and kernel row length are measured by hand. For soybeans, plants, blooms and pods are counted. Then, as harvest approaches, samples are sent to labs where they are weighed and moisture is measured. These factors all allow for accurate but incredibly slow data collection, aggregation and analysis.
Furthermore, the USDA data does not predict or take into account predictions of future weather events or conditions. Long-range forecasts are not used in their prediction modeling. As a result, significant changes in weather are neither anticipated nor taken into account until after the fact, if at all. Because USDA looks at maturity and yield forecasts on a national scale, even severe but localized weather events, like the 2020 derecho, or localized drought conditions, are largely ignored by the WASDE. This is because even substantial gains or losses at a county or regional level are lost in the national level predictions.
Learn About How CIBO Complements the WASDE
Surveys, Simulation & Science
Fundamentally, CIBO yield prediction and the USDA approaches are very different. USDA uncertainty comes mostly from the "gap" between what the USDA has surveyed and all the farms they have not surveyed at the end of the growing season. CIBO estimates are not based on statistical sampling but rather on modeling and verified detection. The CIBO models start with detailed soil level data and a truly staggering number of factors from weekly weather to planting dates to the kinds of crops planted (e.g. 120 day vs 180 day corn), and then simulates how a plant with those starting characteristics will grow. Multiply that number by the planted-acres, planting density and field-level stability, the most recent weather data, add in some data science, run the models out into the future with different parameters, weight the results and out comes a yield prediction for that particular parcel, field and farm. Modern data science and computer technology make it possible and affordable to do this for every parcel, with the push of a button.
The CIBO reports, taken as a companion to the WASDE allow regional suppliers, retailers, input companies, transportation firms, commodity traders and lenders to see how the USDA WASDE comes to life in each and every county. CIBO enables anyone with agriculture in their supply chain to monitor, manage and plan with confidence and specific and highly accurate results.
Taken together, CIBO and the USDA's WASDE reports are the ideal agricultural insight companions to deliver rapid and accurate business insight and decision support.
Month by Month Review of Process and Accuracy
The USDA gets to define and even re-define the "real" final yields each year in their retrospective report. It is useful to compare the USDA's early predictions against their final yield report and then to compare the CIBO numbers each month against both the monthly USDA predictions as well as their final yield. Yet it is important to remember that both reports provide different levels of granularity and insight – CIBO at the farm, field and county level and the USDA at the state and national levels.
Corn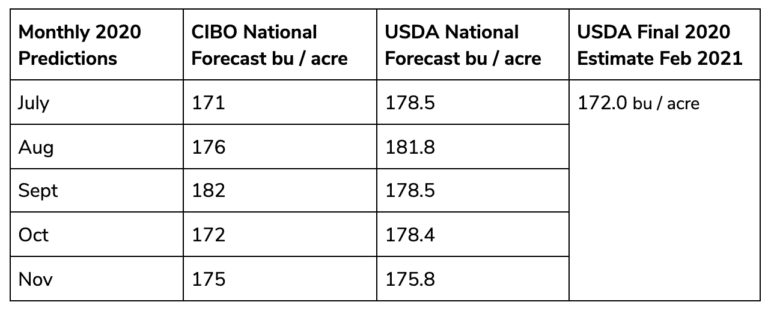 USDA Monthly WASDE forecasts may be found at the USDA archive.
Soybeans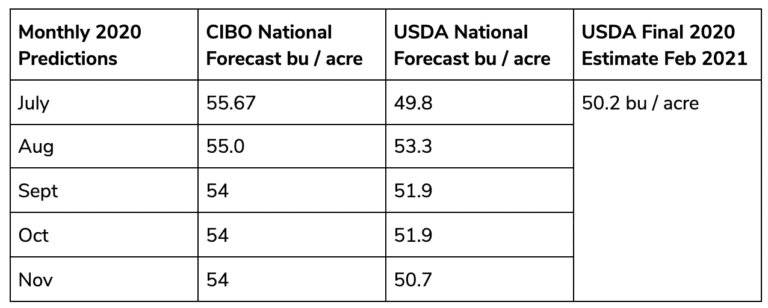 USDA Monthly WASDE forecasts may be found at the USDA archive.
During the 2020 growing season, CIBO created monthly crop forecasts for the Grain Belt that addressed several interesting aspects of the agricultural landscape. CIBO created estimates of planting dates, planted acres, maturity timing and yield for each and every county in the grainbelt and cotton territory of the U.S. Using computer models, soils database, and remote sensing capabilities, CIBO was able to see and then simulate operations, management and phenology. As a result, CIBO delivers a wealth of information available on a near-real-time level, providing a detailed picture of how the growing season evolves.
The early-season picture showed a mixed outlook: planting conditions were poor in some areas, necessitating replanting and resulting in some lost acres.  For growers who were able to plant on time, weather conditions were generally favorable, and weather forecasts looked promising.  Early-season forecasts were for high yields in many areas, including a national record-high corn yield.
The August Derecho
But 2020 was a year of many surprises.  The derecho of August 10-11 tore a path of destruction through Iowa and Illinois, ranging as far as Indiana. Almost overnight, our yield forecasts for the affected counties dropped by as much as 40%. This cut our estimated national yield from record highs to a still very high 176.2 (bu/ac).
The maps below clearly show the derecho effect on corn and soybean projected yields.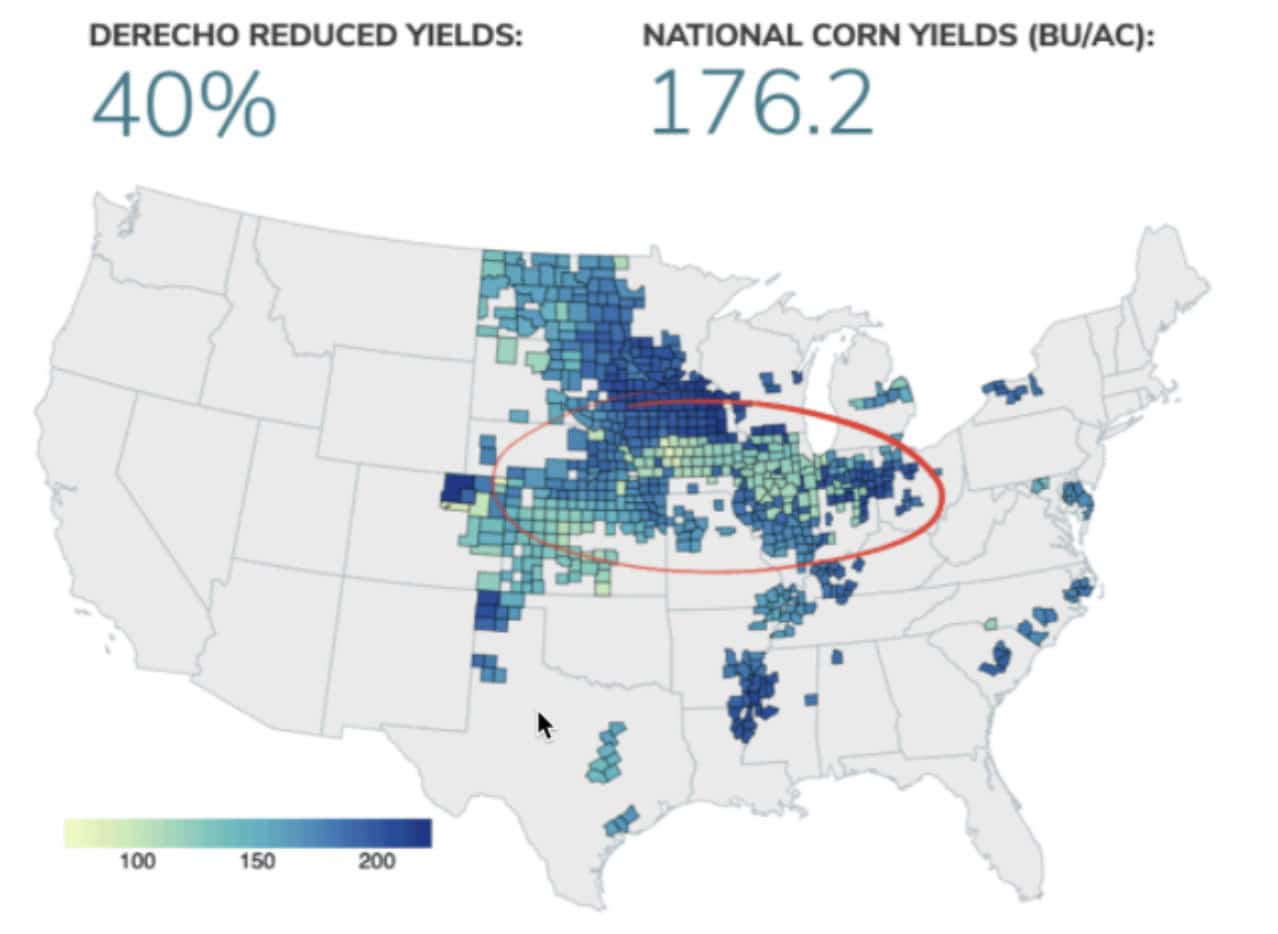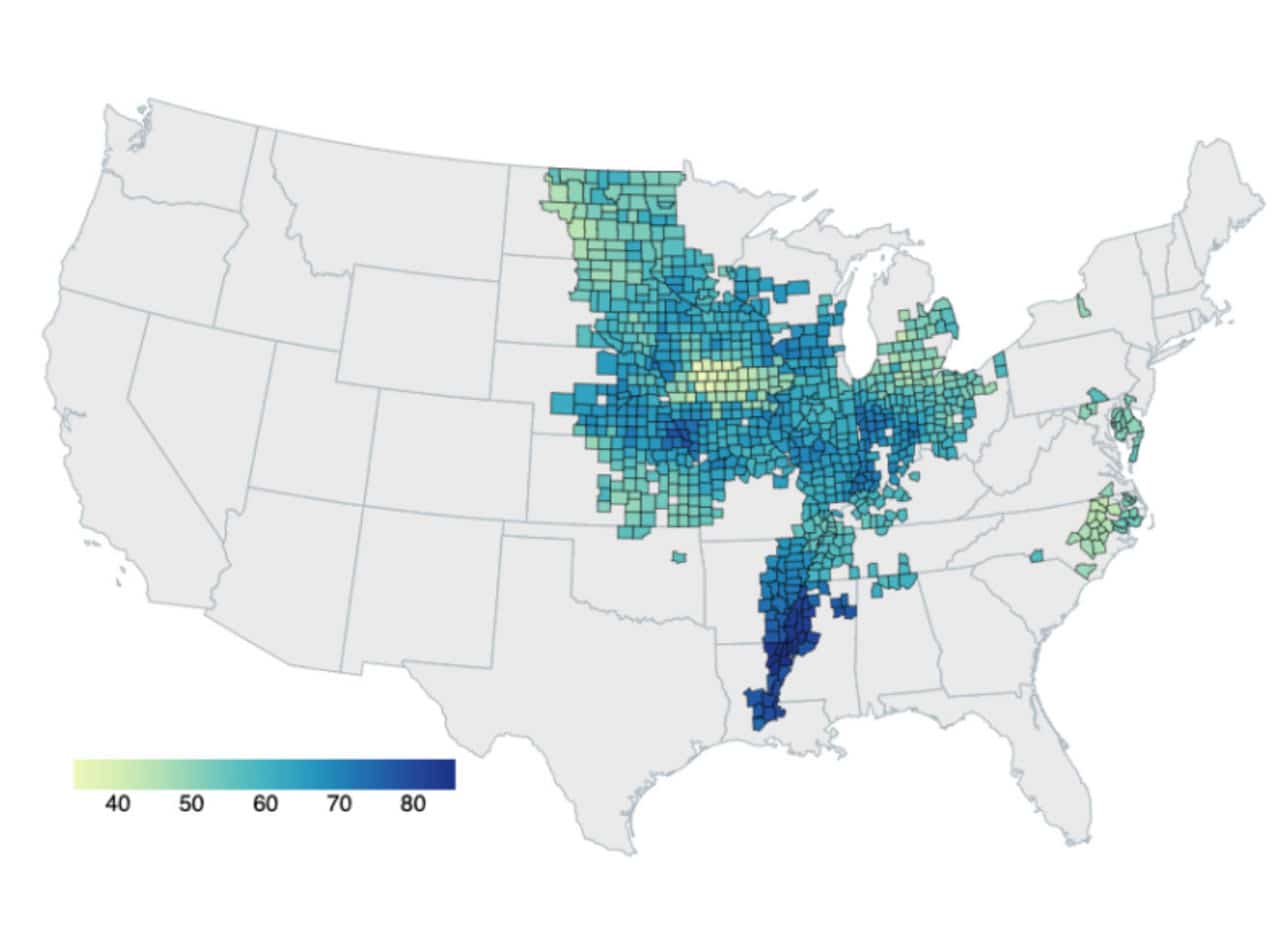 Dry September
In September, it was clear that the rosy weather forecasts had also been optimistic: the rainfall that would have spurred high yields failed to materialize, and dry conditions persisted into October. The picture of dry and drought weather is extreme when you see them side by side.
Understanding the direct, causal effects of climate and weather on growing conditions and yields is something at which simulation and modeling is especially adept.

This is where a deeper understanding of local conditions matters more than overall, aggregated national yields. Early yield forecasts from the USDA and CIBO both suggested higher yields across the country. While supply does affect commodity pricing, prices are more impacted by demand. Commodity prices saw a mid season rally from renewed international demand but regionalized effects were still felt due to the one-two punch of drought and derecho. The local drought conditions and derecho-damaged infrastructure combined with higher than average yields in other, unaffected regions put extra cost strain on logistics, storage and growers in the hardest-hit drought and derecho-affected regions.
By understanding the precise nature of where big yields are expected and where drought and weather are depressing expected yields, lenders, underwriters, insurance adjusters, appraisers and managers were able to better monitor the health of their service portfolios. They were also able to be much more proactive in outreach to their clients to provide better customer service and prepare for next year.
Growers who dodged the drought and derecho bullet still, for the most part, brought in bigger harvests. Using the detailed CIBO yield data, paired with USDA trends and pricing insight, the transportation and storage suppliers in those regions were able to better plan for the additional demands on capacity.
CIBO's estimated national yields for corn decreased to 172 bu/ac, and then bounced up somewhat to a final 175 bu/ac.
The USDA's survey and interview-based approach continued with large estimates. Throughout the season, CIBO was able to create push-button estimates for the entire country without having to wait on incoming interview answers and without having to bother farmers who would rather be out managing their fields than answering survey questions or escorting local USDA representatives through fields.
CIBO's forecasting approach is model-based:  weather forecasts and remote-sensed planting data are fed into a mechanistic process-based model that uses published soils and management data to simulate plant growth and output estimates of yield and maturity.  CIBO has the infrastructure in place to remotely detect and data-sample individual fields across the Grain Belt. We then aggregate those results into county-level and statewide predictions.
Discussion
Since putting out the final forecast in November, CIBO has been eagerly awaiting the official WASDE numbers. Given the challenges of the 2020 corn season, CIBO suspected the final 175 bu/ac for corn seemed high. But in November, the USDA estimate at the time was higher yet, at 176.  The final WASDE estimate of 172.0 bu/ac was released Jan 12.
The figure below shows CIBO's month-by-month forecast, the USDA's forecasts from the same time period, and the final WASDE numbers. Over the course of the season, the CIBO and USDA forecasts were generally slightly high, likely reflecting the optimistic weather forecasts available.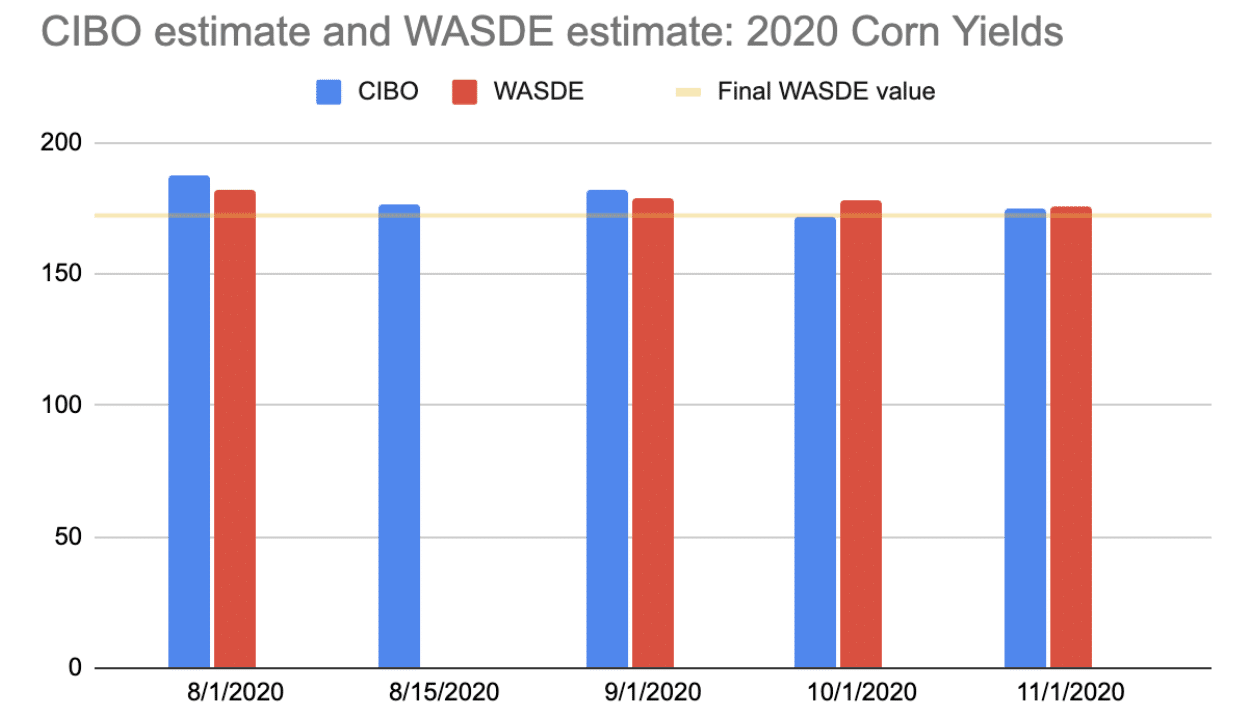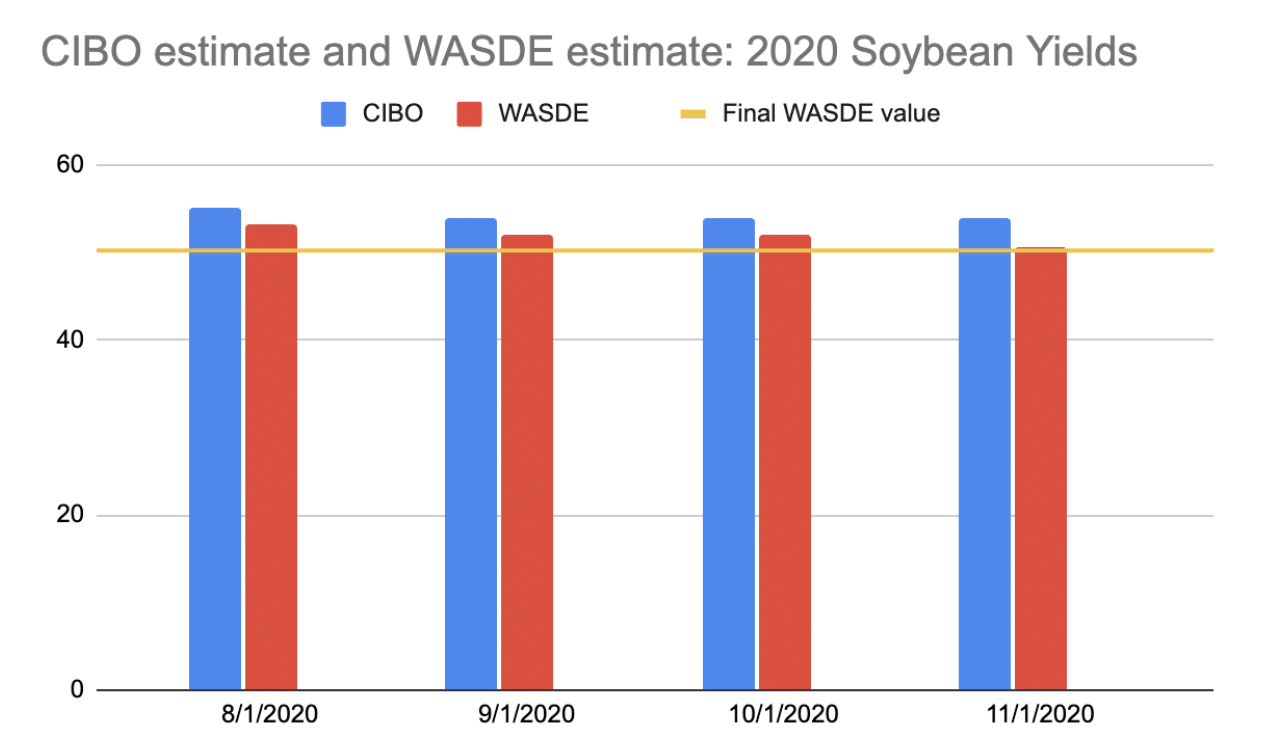 The USDA WASDE will remain an important report to both predict yields and provide guidance to the world's investors and supply chain professionals about what to expect. There is substantial room for improvement in the speed, efficiency and accuracy of yield predictions throughout the season.
CIBO's approach combines the latest in science, technology, modeling, and agronomy to produce fast, accurate predictions that, when partnered with the WASDE, provide a better, deeper and more complete understanding of crop yields in the US. Using CIBO, enterprises, commodities traders and any investor in agriculture is able to see yields at a glance and with just the push of a button. This creates more transparency and better decision support at any time a user needs it, not just when the USDA is able to produce a report.
Share How CIBO Is the Essential
WASDE Companion with your Organization