Are you curious about soil health and what the state of farmland is in your region? Then you're in luck. 
CIBO combines remote sensing, and computer vision with a globally validated science framework and real-world variables like soil, weather, plant physiology, to develop sophisticated modelings of entire agricultural ecosystems. Through the platform, users can pinpoint how specific variables will impact possible outcomes over specific timeframes, helping our customers optimize processes and decision-making. 
This means that it's no longer an expensive and time-consuming process to find and understand soil maps. Instead, CIBO brings simple, easy-to-understand maps to your fingertips. Find out more and see example maps below. 
South Dakota Soil Map
Southwest Bon Homme TwpBon Homme Co, SD18064700 42°53′51″N 97°51′36″W
/mp/land_detail/sd:009:18064700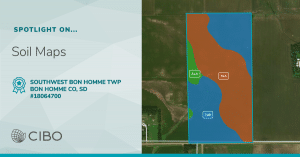 Nebraska Soil Map
Brady TwpLincoln Co, NE006482500 41°1′20″N 100°26′54″W
/mp/land_detail/ne:111:006482500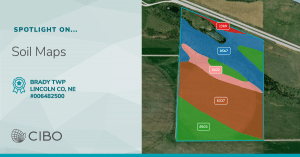 Pennsylvania Soil Map
Conneaut TwpCrawford Co, PA19030151 41°45′1″N 80°24′12″W
/mp/land_detail/pa:039:19030151
Wisconsin Soil Map
Withee TwpClark Co, WI0620664000 44°56′47″N 90°45′46″W
/mp/land_detail/wi:019:0620664000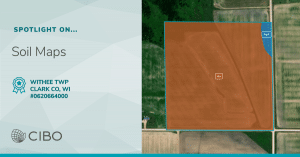 Registration to CIBO is free. See your land. See a simplified value. See CIBO.