Finding the right land for your farm is one of the most challenging decisions to make. Whether you're a new grower or a beginning farmer, you need to find affordable land that supports your goals for agricultural operation. One key consideration when choosing farmland is understanding an individual field's unique sub-field behavior. 
CIBO's Performance Zone maps work to communicate and visualize within-field variability over time. CIBO uses satellite imagery to look at the field variability over a 10-year period, then map out zones of high, medium, and low performance and zones of variability performance. With this knowledge, farmers can more easily decide where to add more or less fertilizer and other management decisions. Check out examples of our reports. 
Illinois Stability Map 
Pesotum TwpChampaign Co, IL183211200005 39°56′47″N 88°15′26″W
/mp/land_detail/il:019:183211200005/stability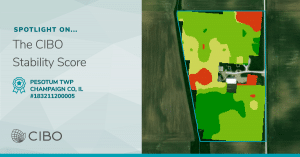 Iowa Stability Map 
Brighton TwpCass Co, IA090000982002000 41°29′34″N 95°8′41″W
/mp/land_detail/ia:029:090000982002000/stability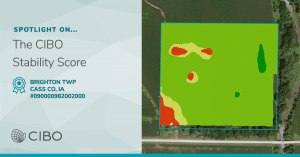 Indiana Stability Map 
Wildcat TwpTipton Co, IN800705400009000010 40°22′51″N 85°58′40″W
/mp/land_detail/in:159:800705400009000010/stability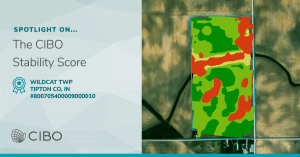 Michigan Stability Map 
Overisel TwpAllegan Co, MI1802900801 42°41′57″N 85°59′39″W
/mp/land_detail/mi:005:1802900801/stability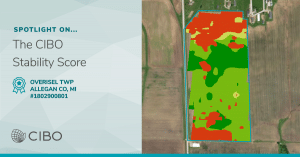 Registration to CIBO is free. See your land. See a simplified value. See CIBO.