Not all farm fields behave the same. An individual field's unique, sub-field behavior is hard to predict without significant operator experience and data collected over many growing seasons. And the typical data used to explain in-field behavior, such as combined yield and precision maps—is seldom available in farm listings.
CIBO's Soil Stability Score and Performance Zone maps work to communicate and visualize within-field variability over time. We use satellite imagery to look at the field variability over a 10-year period, then map out zones of high, medium, and low performance, as well as zones of significant variability (i.e. inconsistent performance). Take a look at the information available through CIBO about fields across the US.
Minnesota Stability Map 
Elgin TwpWabasha Co, MN157020004100 44°10′9″N 92°18′52″W
/mp/land_detail/mn:157:157020004100/stability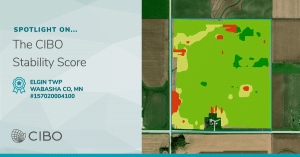 Missouri Stability Map 
Grand River TwpDaviess Co, MO06803405 40°2′20″N 94°2′44″W
/mp/land_detail/mo:061:06803405/stability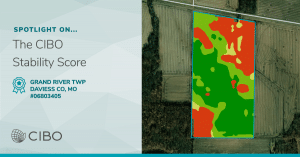 North Dakota Stability Map 
Devillo TwpRichland Co, ND28000005253000 46°6′20″N 96°41′41″W
/mp/land_detail/nd:077:28000005253000/stability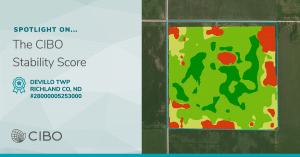 Ohio Stability Map 
Brown TwpDelaware Co, OH51840001119001 40°19′15″N 82°58′21″W
/mp/land_detail/oh:041:51840001119001/stability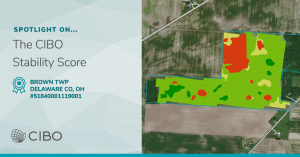 Registration to CIBO is free. See your land. See a simplified value. See CIBO.