To understand how crops will grow throughout a season, it's vital to learn the elevation of a parcel or field. Elevation or topography is often described as the pattern and magnitude of sloples across a field. Mapping and accounting for topography are vital in understanding the accumulation of water, organic matter, and other material in landscapes, which in turn affects the development and properties of soils. It can also impact and influence soil pH, water leaching, crop development, mineral formation, and many other soil and site characteristics. 
At CIBO, we provide a simple, easy-to-use map view that showcases the elevation, soil map, and performance zones with one click. Check out examples of our elevation maps through the links below. 
Illinois 
Malta TwpDeKalb Co, IL0703300001 41°58′6″N 88°53′5″W
/mp/land_detail/il:037:0703300001 
Iowa 
Preston TwpPlymouth Co, IA000000304100003 42°54′13″N 96°24′31″W
/mp/land_detail/ia:149:000000304100003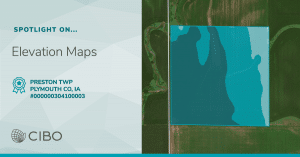 Indiana 
Columbia TwpGibson Co, IN261407200000805006 38°21′39″N 87°20′13″W
/mp/land_detail/in:051:261407200000805006
Michigan
Brown TwpManistee Co, MI0301000700 44°19′17″N 86°6′50″W
/mp/land_detail/mi:101:0301000700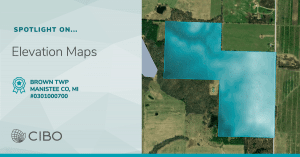 Registration to CIBO is free. See your land. See a simplified value. See CIBO.