Making a healthier earth starts with the soil beneath our feet. Improving soil health is just one of the many benefits that regenerative agriculture brings to the world. In recent years, cover crops have generated excitement as a way to improve soil health, reduce erosion, and help improve the sustainability of agriculture practices. Regenerative agriculture has been heralded by scientists, policymakers, farmers, as a way to scale approaches that significantly help to improve the environmental impact of farming. 
Learn more about the importance of cover crops to soil health from CIBO Crop Modeling Scientist Nilovna Chatterjee, in her article Cover Crops: The Doctor of Soil Health. 
However, for farmers, they need to start at the soil by gaining access to soil maps. Soil sampling can be an expensive and time-consuming process. Instead, growers and organizations interested in purchasing farmland are turning to CIBO to get soil maps. Check out several examples below. 
Missouri Soil Map 
Richmond TwpRay Co, MO10051600000007000 39°18′42″N 93°56′4″W
/mp/land_detail/mo:177:10051600000007000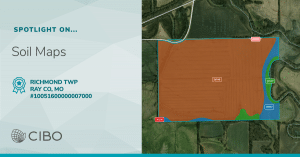 North Dakota Soil Map 
Dwight TwpRichland Co, ND16000003173000 46°18′54″N 96°46′24″W
/mp/land_detail/nd:077:16000003173000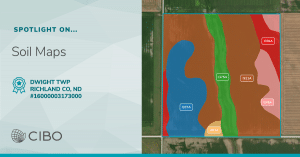 Ohio Soil Map 
Bowling Green TwpMarion Co, OH030090001201 40°33′11″N 83°19′40″W
/mp/land_detail/oh:101:030090001201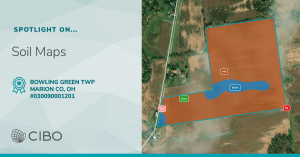 Kansas Soil Map 
Hiawatha TwpBrown Co, KS0071051600000001000 39°47′42″N 95°30′38″W
/mp/land_detail/ks:013:0071051600000001000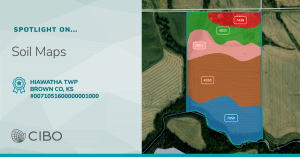 Registration to CIBO is free. See your land. See a simplified value. See CIBO.