CIBO believes in helping each farmer connect with land in a new way. We've developed technologies that clarify the best restorative choices to make and offer ways to reap the benefits of doing the right thing. Our process distills data into actionable information that lets farmers take control while our integrated marketplace defines value to guide carbon credits, forging broad-scale sustainable paths for the entire food chain.
Looking for examples of what you can find with our powerful search? Here are five of the most productive land with regenerative potential. 
Illinois 
Grant TwpVermilion Co, IL 0421200002 40 °26′39″N 87°35′48″W
/mp/land_detail/il:183:0421200002/valuation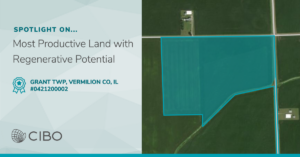 Iowa
Fremont TwpCedar Co, IA 014002152000030 41°54′44″N 91°10′44″W
/mp/land_detail/ia:031:014002152000030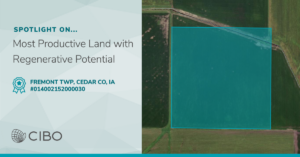 Indiana 
Oak Grove TwpBenton Co, IN 041323100001001010 40°31′1″N 87°17′11″W
/mp/land_detail/in:007:041323100001001010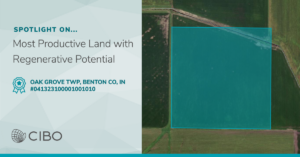 Michigan 
Hartford TwpVan Buren Co, MI 801101401600 42°12′8″N 86°8′7″W
/mp/land_detail/mi:159:801101401600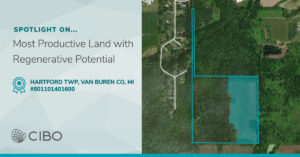 Minnesota 
Delavan TwpFaribault Co, MN 050120100 43°49′39″N 94°1′24″W
/mp/land_detail/mn:043:050120100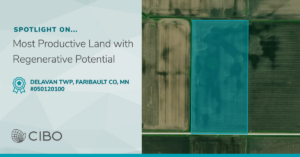 Registration to CIBO is free. See your land. See a simplified value. See CIBO.