By Marie Coffin, Adam Pasch and Nathan Smith 
As we swing into the 2021 planting season, all eyes are on the weather. Last month, we looked at early-season forecasts from various sources to see what kind of growing season we might expect in 2021. Now that we're in the middle of May, we have a better idea of how planting is progressing.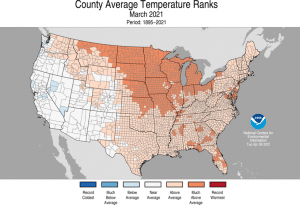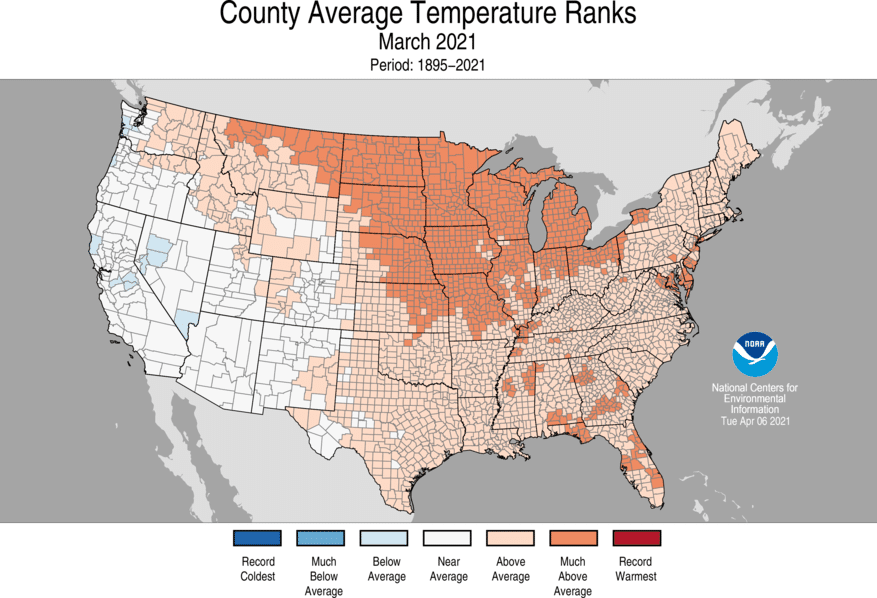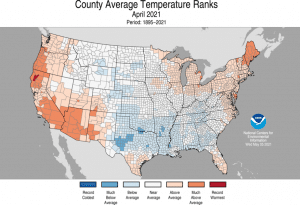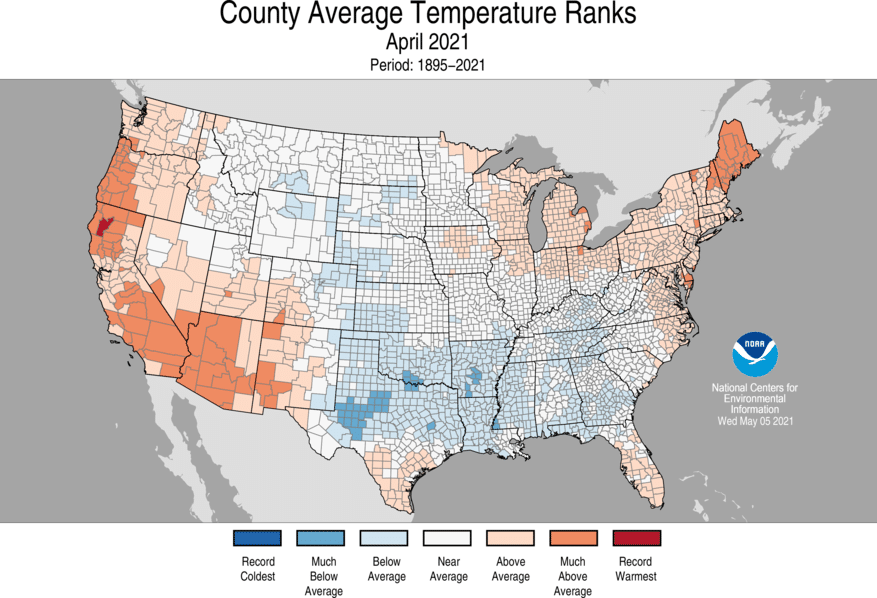 Map Source: NOAA – National Temperature and Precipitation Maps
In the Upper Ohio Valley, conditions have been warm and dry. We expect this area to be ahead of schedule on planting but with a significant risk of drought as the summer progresses.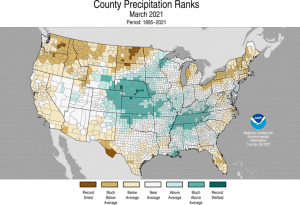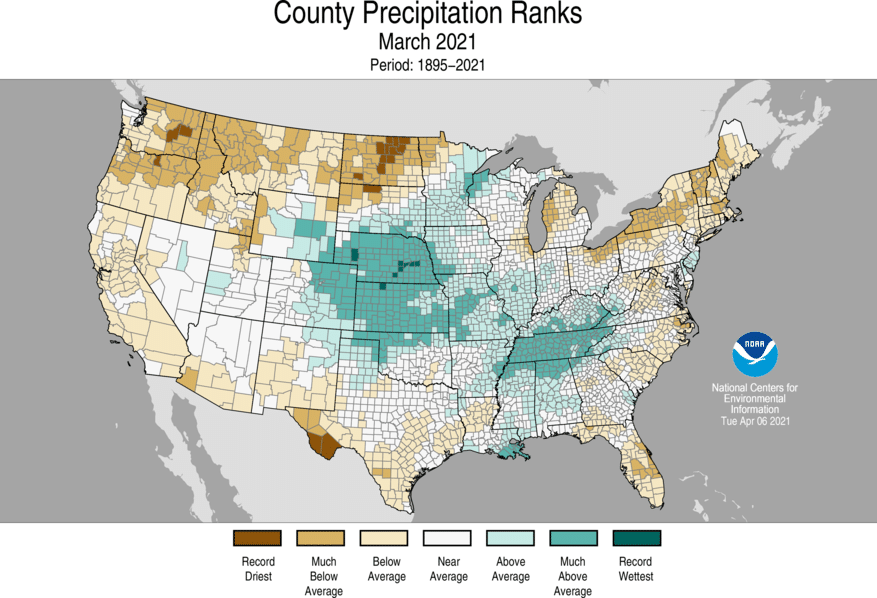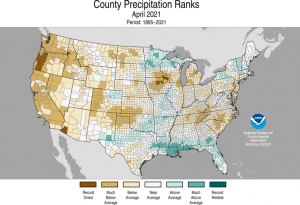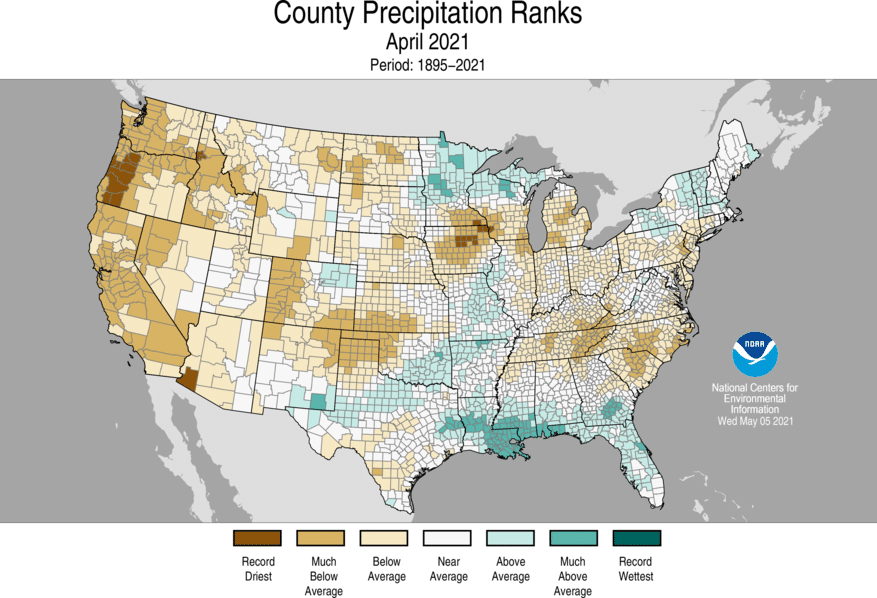 Map Source: NOAA – National Temperature and Precipitation Maps
In the Central Plains, Southern Plains, and Southeast regions, a common pattern is emerging: March was quite warm, but April showed below-average temperatures in many areas. Some areas experienced a lot of precipitation in March, but April was a relatively dry month everywhere. This cool, dry picture for April suggests that planting in the Central Plains should proceed on schedule, with fewer cases of delayed planting than we saw last year. 
After planting, the outlook will depend on temperature trends and timely rainfall.  In April and May, temperatures have been unseasonably cool for most of the Corn Belt: planting progressed on time or ahead of schedule, but we are not seeing the temperatures needed for crops to start to accrue growing degree units (GDUs) rapidly. Also, if the low rainfalls of April are the beginning of a trend, there could be trouble ahead.
We scale our proprietary CIBO Lab Yield Simulator to create predictions for the major corn, soy, and cotton-growing regions. CIBO's science team has begun looking at these predictions which blend the observed weather with state-of-the-art seasonal predictions to simulate a range of possible weather scenarios for the new planting season. Our proprietary software platform simulates crop development, from planting to harvest, under a variety of forecast weather scenarios and management strategies. This work provides a range of outcomes and, as the growing season progresses, the prediction's accuracy improves. 
For early 2021, what we are seeing from this system is that the models have not trended toward a solution. This means that there are equal chances of the growing season being warmer and wetter than normal as there are of the season being colder and drier. These different weather regimes have dramatically different impacts on potential end-of-season yield predictions with warmer and wetter producing high yields due to adequate moisture and the heat necessary to accumulate the required GDUs, whereas, the colder and drier has the opposite impact on yields with a lack of moisture and heat, crops would struggle to reach maturity in a timely manner resulting in the potential of lower yields.
CIBO will continue to monitor the changing weather predictions, and update our in-season forecasts throughout 2021. Check back with us next month for analysis and insights into this growing season.
Looking for a deeper understanding of how CIBO can help uncover insights into cropland? Take a look at our monthly report or learn how CIBO is the perfect companion to the WASDE. 
CIBO End of Season County-Level Crop Yield Forecasts Report
The 2020 WASDE Companion: How CIBO Adds Depth, Speed & Accuracy
About the Authors
Marie Coffin is the VP, Science and Modeling at CIBO, a science-driven software startup. She has focused on being a biostatistician at agriculture companies. Prior to CIBO, she worked for Monsanto, Icoria, Paradigm Genetics, and was an assistant professor at Clemson University. She holds a BS in Mathematics from South Dakota State University and a Ph.D. in Statistics from Iowa State University.
Adam Pasch is the Director of Product Management at CIBO, a science-driven software startup. He is a Certified Consulting Meteorologist from the American Meteorological Society. Prior to CIBO, Dr. Pasch was the Weather Data Strategy and Operations Manager at The Climate Corporation and a Meteorologist Project Manager at Sonoma Technologies, Inc. He holds a Doctorate, Masters, and Bachelors of Science in Meteorology from Saint Louis University.
Nathan Smith is a Senior Agricultural Analyst at CIBO, a science-driven software startup. Prior to CIBO, he worked in agriculture for Monsanto and The Climate Corporation. He holds a Bachelor of Science in Agricultural Business and Management with a minor in Agronomy from Southern Illinois University.