Farmland is expensive to own. A large investment is required for a family farm to make a substantial profit and living to purchase a farm. Many family farms may not afford the capital for the downpayment before the first harvest. Additionally, new farmers may have some operating money but are looking to keep expenses low initially. Those who are not ready or able to purchase land can rent land and build equity for a future purchase. 
With lease agreements, owners and potential tenants must understand the land's fair value and negotiate a beneficial deal to both parties. CIBO's platform lets every agriculture and rural land economy stakeholder—from farmers and landowners to lenders and investors—find rich details about individual parcels. Using CIBO's simple scores, you can compare the lease values from next door to across the state. 
Are you looking for examples of potential leases that you can find with CIBO's powerful search? Here are four of the most productive land for lease parcels across the US. 
Illinois 
Fancy Creek TwpSangamon Co, IL1320400001 39°57′59″N 89°40′53″W
/mp/land_detail/il:167:1320400001/valuation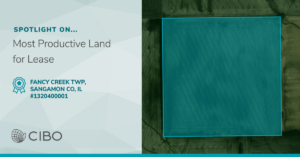 Iowa
Black Hawk TwpGrundy Co, IA871531300006 42°18′8″N 92°38′57″W
/mp/land_detail/ia:075:871531300006/valuation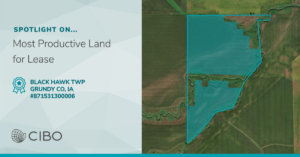 Indiana 
Democrat TwpCarroll Co, IN081314000001000008 40°26′40″N 86°30′5″W
/mp/land_detail/in:015:081314000001000008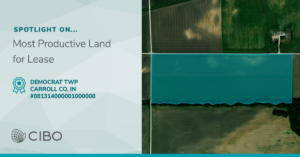 Michigan
Monterey TwpAllegan Co, MI160030070042°40′39″N 85°49′39″W
/mp/land_detail/mi:005:1600300700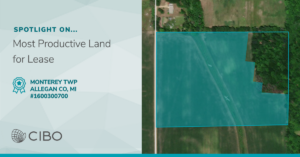 Registration to CIBO is free. See your land. See a simplified value. See CIBO.