By Adam Pasch
CIBO has been running monthly yield predictions since April. As predicted, the 2021 growing season started out well, with excellent conditions throughout the corn-growing region, allowing crops to get in the ground early. With crop development entering a crucial stage of yield determination in June, significant rainfall (> 8 inches more than normal) was observed in the midwest and the southeastern United States, which was good news for the primary corn and soybean growing areas (Figure 1). Additional rainfall was observed in Illinois and the southeastern US during July and also August.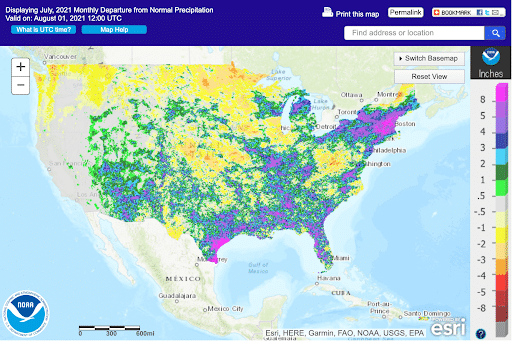 Figure 1. Monthly Departure from Normal Precipitation from NOAA's Advanced Hydrologic Prediction Service (AHPS) for July and August 2021.
CIBO's national average yields are trending close to the yields from USDA's August WASDE report. The big unknown will be the impact on cotton and soybeans and infrastructure damage and delays for shipping and storing grain caused by Hurricane Ida. Growers and agriculture decision-makers will be keeping a close eye as more information and updates on damage and associated impacts are coming throughout the next several months as corn, soybeans, and cotton harvests begin in earnest throughout the US.
The weather stories for the month of August was and continues to be the impacts of:
Hurricane Ida which impacted most of the Gulf Coast throughout the Southeastern and Northeastern US (Figure 2);
Widespread wildfires (Figure 3) and associated smoke plumes that were transported into the prime corn and soybean growing regions; and
Continued Drought conditions throughout the West and North-Central US.
Download CIBO's County-Level Report
Hurricane Ida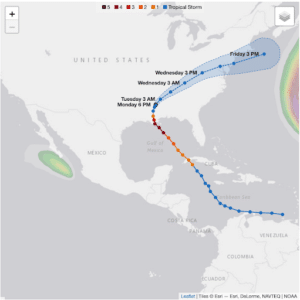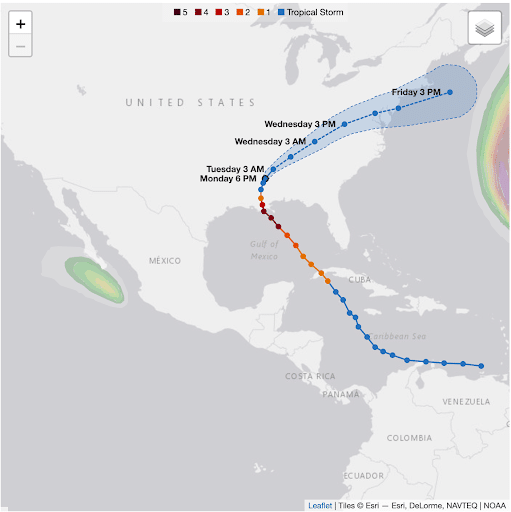 Figure 2. Hurricane Ida storm track map from PBS from the formation (blue line and dots) through landfall on Sunday, August 29, 2021, and continuation of the remnants through the Northeast on Friday, September 3, 2021.
Below are quotes from some of the media coverage and statements regarding Hurricane Ida's impacts to agriculture. However, the extent of impacts will likely not be known until harvest begins in earnest and grain elevators begin looking to ship grain down the Mississippi River and out through the ports along the Gulf of Mexico. Additionally, as Ida made landfall, a large amount of cotton crops were in the open-boll stage. The open-boll stage is susceptible to damage by high winds and strong rains.
Meanwhile, Bloomberg writer Michael Hirtzer reported on Monday that, "Hurricane Ida is shaking up grain exports in the U.S.'s busiest agricultural port, a problem that could balloon as the ation approaches its peak harvest season in the coming weeks.

"Farmers in the Midwest will soon begin reaping corn and soybean crops, and a hefty percentage of it flows down the Mississippi River, where it's then shipped around the world via the Gulf of Mexico. The U.S. is the world's biggest corn supplier. If grain elevators and port terminals are still dealing with outages and damage, that could back up exports."

Mr. Hirtzer pointed out that, "Cargill's port facility in Reserve, Louisiana, sustained significant damage and there's no timetable for restarting, according to a company spokesperson.

"ADM said it would reopen four grain elevators in New Orleans that were shut over the weekend depending on the impact of the storm. Bunge shuttered a grain terminal and soybean crush plant in Destrehan, Louisiana."

Similarly, Reuters writers Tom Polansek and Karl Plume reported this week that, "Hurricane Ida damaged a grain export elevator owned by global grain trader Cargill Inc, and rival shipper CHS Inc warned on Monday its grain facility may lack power for weeks after the storm tore through the busiest U.S. grains port."

The storm has disrupted grain and soybean shipments from the Gulf Coast, which accounts for about 60% of U.S. exports, at a time when global supplies are tight and demand is strong from China.

The Reuters article added that, "'Best estimates as to when power will be restored at the terminal are in the two to four week range,' said John Griffith, executive vice president at CHS Global Grain & Processing.

"Cash premiums for grain delivered by barge to Gulf terminals for export fell sharply on Monday as traders feared a prolonged recovery from the storm."

In addition, Kevin Varley reported at Bloomberg on Tuesday that, "A grain elevator damaged by Hurricane Ida in Reserve, Louisiana is responsible for nearly 9% of America's bulk seaborne exports of corn, soybeans and wheat so far in 2021, according to Bloomberg's analysis of U.S. Department of Agriculture data."

Later on Tuesday, Reuters writer Tom Polansek reported that, "U.S. grain and soybean futures touched their lowest prices in weeks on Tuesday as power outages and damage to export facilities from Hurricane Ida stoked concerns about the potential for extended disruptions to shipments, analysts said."

And Bloomberg writer Sybilla Gross reported on Tuesday that, "Hurricane Ida, which ripped through Louisiana over the weekend, has left behind broken grain elevators, widespread power outages and shuttered export terminals in New Orleans. With shipping largely out of action in a region that accounts for about two-thirds of U.S. grain and soy exports, there's concern that supply could get backed up as harvest season looms."
Wildfires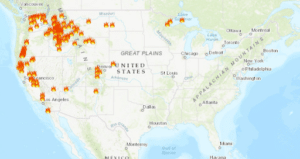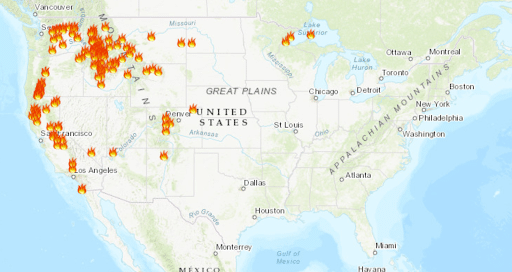 Figure 3. Active large fire incidents from the U.S. National Interagency Fire Center's active incident feed are presented as fire icons. This map is a collaborative effort between the U.S. Forest Service led Interagency Wildland Fire Air Quality Response Program (IWFAQRP) and the U.S. Environmental Protection Agency (source: https://fire.airnow.gov/#).
Drought
U.S. Drought Monitor shows continued drought conditions in Iowa and the North-Central US. Hurricane Ida and the rains brought some relief to the Southeast; however, the West is still experiencing Exceptional Drought conditions exacerbating the already severe wildfire conditions (Figure 4).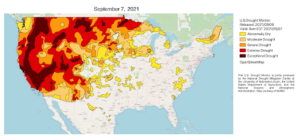 Figure 4. U.S Drought Monitor map for September 7, 2021 obtained from: https://droughtmonitor.unl.edu/CurrentMap.aspx.
What does the USDA think about the current conditions?
The Crop Progress and Condition for corn from USDA (Figure 5) shows a decrease in the percentage of crops that are Good + Excellent have fallen to levels not seen since 2019 for both corn and soybeans. In addition, the percentage of crops that are Good + Excellent fell sharply from 70% in mid-August to near 60% by the end-of-the-month for cotton coinciding with the landfall of Hurricane Ida occurring during the boll and open boll stages, which are susceptible to yield losses due to strong hurricane-force winds.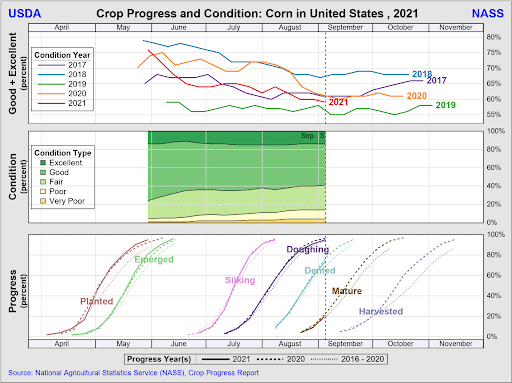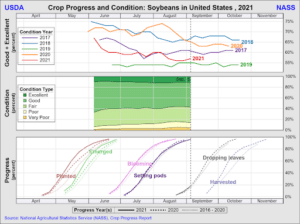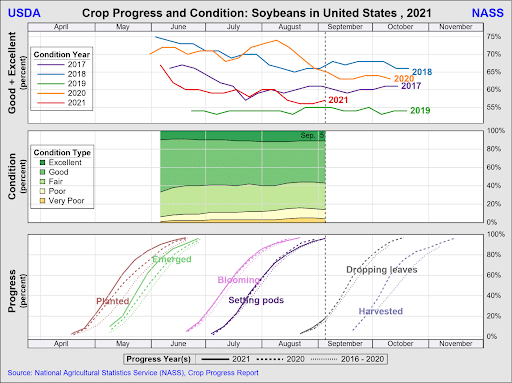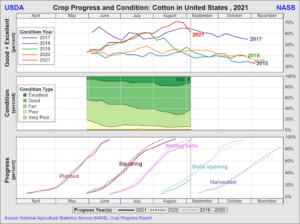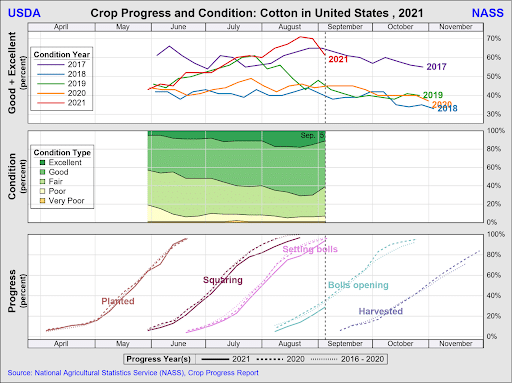 Figure 4. National Agricultural Statistics Service (NASS), Crop Progress Report for Corn (top), Soybeans (middle), and Cotton (bottom) for September 2021.
Make sure to check back in October, the day before the USDA WASDE is released to access CIBO's forecasted numbers. The USDA regularly announces national yield insights which tell you what will likely happen. CIBO's monthly and real-time forecasts are able to tell you where and why yields are likely to happen. This insight creates new opportunities for actionable and hyper-local farming, agribusiness, sustainability and trading decision-making.
Download CIBO's County-Level Report
About the Author
Adam Pasch is the Director of Product Management – Platform at CIBO, a science-driven software startup. He is a Certified Consulting Meteorologist from the American Meteorological Society. Prior to CIBO, Dr. Pasch was the Weather Data Strategy and Operations Manager at The Climate Corporation and a Meteorologist Project Manager at Sonoma Technologies, Inc. He holds a Doctorate, Masters, and Bachelors of Science in Meteorology from Saint Louis University.