How much should I charge or pay for farmland is a common question for landowners and operators. When these two parties discuss the price for the year ahead, it can be challenging to determine a "fair price" for a farm's lease. However, if you can understand the average rates around nearby parcels and what similar land has gone for in the past, you can have a good starting point. 
CIBO's platform provides unbiased lease values across the US. Using this tool, landowners and operators can find a range of rates from a national down to a parcel level. At CIBO, we calculate lease value by analyzing complex interactions between weather, soil, and widely accepted land management methods. This data helps farmers and land managers learn how different fields might perform in different agro-ecological conditions when subjected to typical regional farming systems and are reflected in the lease scores. 
Are you looking for examples of potential leases that you can find with CIBO's powerful search? Here are four of the most productive land for lease parcels across the US. 
Minnesota
Sterling TwpBlue Earth Co, MNR512319300001 43°52′54″N 94°7′36″W
/mp/land_detail/mn:013:R512319300001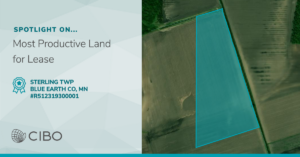 Missouri
Colfax TwpAtchison Co, MO000014062400000000201 40°26′2″N 95°15′4″W
/mp/land_detail/mo:005:000014062400000000201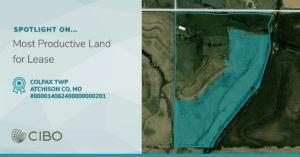 North Dakota 
Barney TwpRichland Co, ND19000003824000 46°12′26″N 97°0′12″W
/mp/land_detail/nd:077:19000003824000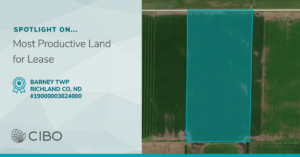 Ohio
Liberty TwpDarke Co, OHI34011123000010101 40°2′29″N 84°43′56″W
/mp/land_detail/oh:037:I34011123000010101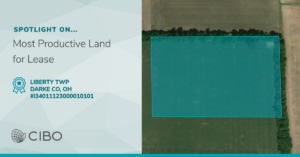 Registration to CIBO is free. See your land. See a simplified value. See CIBO.