By Adam Pasch
CIBO has been running monthly yield predictions since April. As predicted, the 2021 growing season started out well, with excellent conditions throughout the corn-growing region, allowing crops to get in the ground early. With crop development entering a crucial stage of yield determination in June, significant rainfall (> 8 inches more than normal) was observed in the midwest and the southeastern United States, which was good news for the primary corn and soybean growing areas. However, many areas had rainfall less than normal for September (Figure 1). This lack of rainfall will impact some crop development during the final days and weeks of development but allow for farmers to get in the field and harvest when crops are ready.
August 2021                                                                     September 2021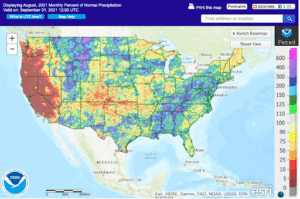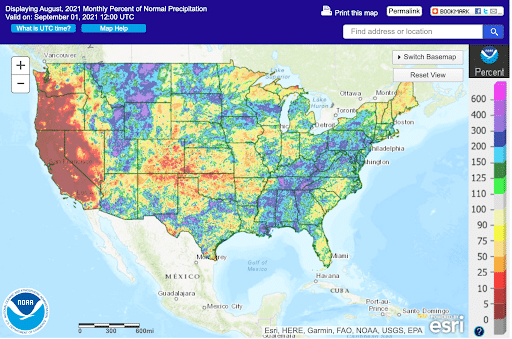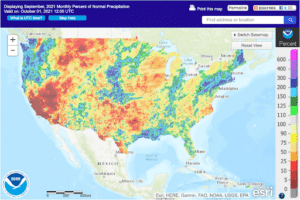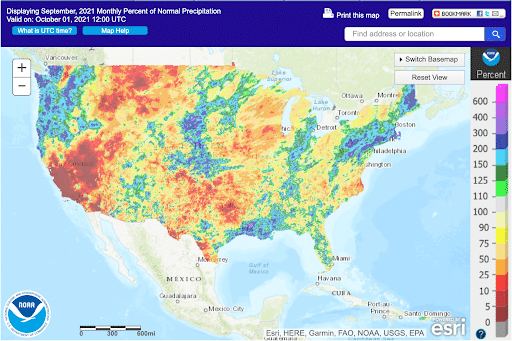 Figure 1. Monthly Departure from Normal Precipitation from NOAA's Advanced Hydrologic Prediction Service (AHPS) for August and September 2021.
CIBO's national average yields are trending close to the yields from USDA's September WASDE report. The big unknown continues to be the impact on cotton and soybeans and infrastructure damage and delays for shipping and storing grain caused by Hurricane Ida. Growers and agriculture decision-makers will be keeping a close eye as more information and updates on damage and associated impacts are coming throughout the next several months as corn, soybeans, and cotton harvests begin in earnest throughout the US.
The weather stories for September was and continues to be the impacts of:
Hurricane Ida which impacted most of the Gulf Coast throughout the Southeastern and Northeastern US;
Widespread wildfires (Figure 2) and associated smoke plumes that were transported into the prime corn and soybean growing regions; and
Continued and expanded Drought conditions throughout the West and North-Central US.
Wildfires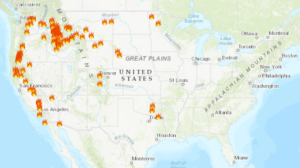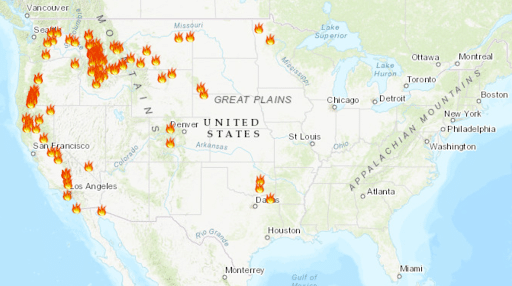 Figure 2. Active large fire incidents from the U.S. National Interagency Fire Center's active incident feed are presented as fire icons. This map is a collaborative effort between the U.S. Forest Service-led Interagency Wildland Fire Air Quality Response Program (IWFAQRP) and the U.S. Environmental Protection Agency (source: https://fire.airnow.gov/#).
Drought
U.S. Drought Monitor shows drought conditions continuing in Iowa and the North-Central US and expanding to most of the of the key corn and soy regions with large areas of Moderate to Severe drought throughout Iowa, the Dakotas, Nebraska, and Minnesota. The West is still experiencing Exceptional Drought conditions exacerbating the already severe wildfire conditions (Figure 3).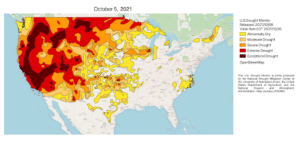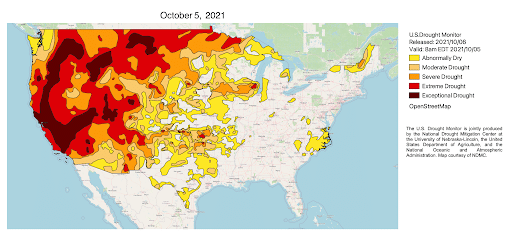 Figure 3. U.S Drought Monitor map for October 5, 2021 obtained from: https://droughtmonitor.unl.edu/CurrentMap.aspx.
What does the USDA think about the current conditions?
The Crop Progress and Condition for corn from USDA (Figure 4) shows a decrease in the percentage of crops that are Good + Excellent continue to be at levels not seen since 2019 for both corn and soybeans. The percentage of crops that are Good + Excellent for corn and soybeans is less than 60%. In addition, the percentage of crops that are Good + Excellent fell sharply from 70% in mid-August to roughly 60% by the end-of-the-month for cotton coinciding with the landfall of Hurricane Ida occurring during the boll and open boll stages, which are susceptible to yield losses due to strong hurricane-force winds. However, the corn crops are progressing well (better than all years since 2017).
USDA has the current corn harvest at about 29% complete nationwide as of Sunday, October 3, 2021 – seven points ahead of the five-year average. Along the I-80 Corridor, Illinois leads the way with 41% harvested – nine points ahead of its average. Outside the Corn Belt, Texas and North Carolina both report 86% of their crops are harvested.
The nation's soybean harvest is over a third done with 34% completed – eight points ahead of the five-year average. In the I-80 Corridor, Iowa reports 40% completed – well ahead of its 23% average. Outside that corridor, Minnesota leads the key producing states with 62% done – doubling its average pace of only 31% at this time of year.
Cotton harvest has only reached 13% nationwide when it would normally have been 19%. The biggest producing state of Texas shows their harvest is now at 23% complete – right in line with its average pace. The national cotton condition rating went down three points to 62% Good + Excellent. Alabama looks to have the best cotton crop condition rating at 78%.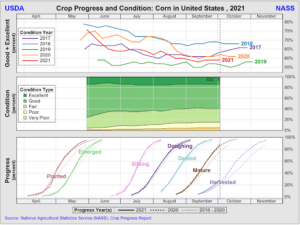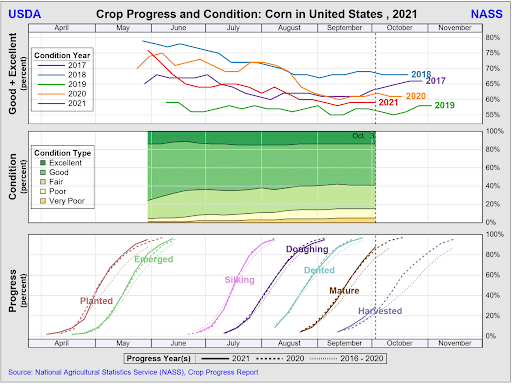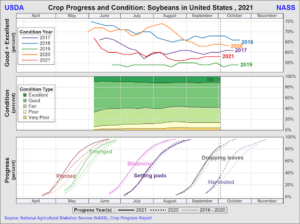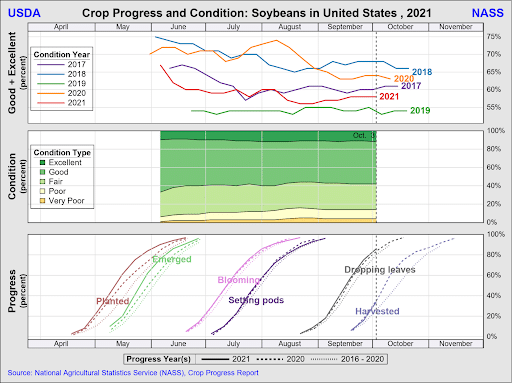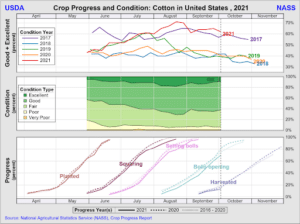 Figure 3. National Agricultural Statistics Service (NASS), Crop Progress Report for Corn (top), Soybeans (middle), and Cotton (bottom) for October 2021.
Make sure to check back in November, the day before the USDA WASDE is released to access CIBO's forecasted numbers. The USDA regularly announces national yield insights which tell you what will likely happen. CIBO's monthly and real-time forecasts are able to tell you where and why yields are likely to happen. This insight creates new opportunities for actionable and hyper-local farming, agribusiness, sustainability and trading decision-making.
Download CIBO's County-Level Report
About the Author
Adam Pasch is the Director of Product Management – Platform at CIBO, a science-driven software startup. He is a Certified Consulting Meteorologist from the American Meteorological Society. Prior to CIBO, Dr. Pasch was the Weather Data Strategy and Operations Manager at The Climate Corporation and a Meteorologist Project Manager at Sonoma Technologies, Inc. He holds a Doctorate, Masters, and Bachelors of Science in Meteorology from Saint Louis University.