CIBO is proud to be a Founding Sponsor of The Good Food Conference 2021 hosted by the Good Food Institute (GFI). GFI is supported by some of the biggest players in science, technology, global food and ingredient manufacturing, and impact investing for this year's Good Food Conference. From America's fastest-growing plant-based egg brand to the world's largest flavor and fragrance company, to Singapore's leading public sector R&D agency, this year's lineup of Founding Sponsors is an eclectic and highly impactful group working to accelerate the alternative protein sector.
The GFI team asked the Founding Sponsors what their 2022 predictions are for alternative proteins, and what trends they're anticipating for the coming year. Read on to learn more about what exciting advancements they expect to see in the industry in 2022!
Read the full article: Meet our GFC 2021 Founding Sponsors!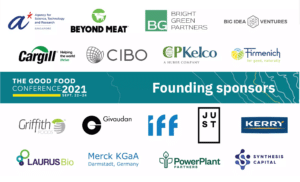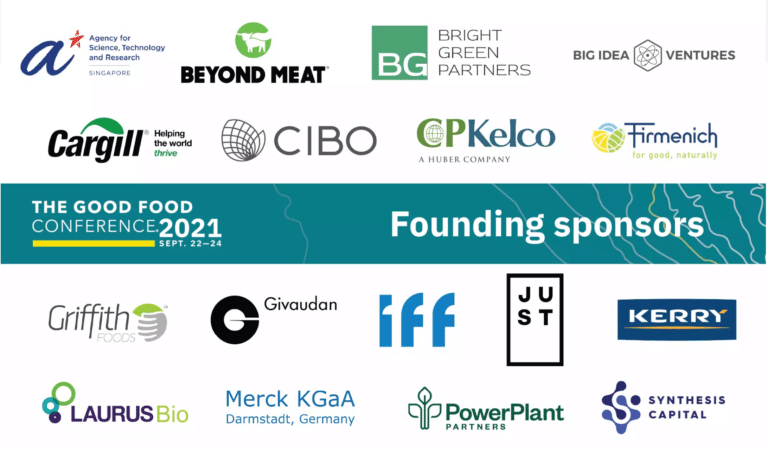 What Science and Technology Companies see for Alternative Protein 
"The alternative protein and plant-based spaces will pioneer the transformation of agriculture supply chains to become more sustainable and transparent. As consumers become more aware of the consequences of traditional agricultural practices on the environment, they will require food companies to take action. This creates new opportunities for these players to become market leaders by promoting regenerative farming practices and providing more information about their environmental impact."
Nitzan Haklai, VP of Business Development at CIBO
"With anticipated market approvals, organizations will be transitioning to their first commercial scale processes. Cultured-meat start-ups have been focusing innovation efforts on developing nutritious target products. Now that commercialization is in sight, start-ups will bring more emphasis on supply chain and manufacturing excellence to meet cost and quality needs."
Aletta Schnitzler, Ph.D., Head of Cultured Meat R&D at Merck Kgaa, Darmstadt, Germany
Global Food Companies explore Alternative Proteins 
"Alternative protein is projected to grow across all day parts—breakfast, lunch, dinner, and snack time—and categories. To keep up, I see even more rapid improvement in technologies and an acceleration to scale them. Looking further ahead, with global demand for protein expected to increase by more than 70% over the next 30 years, alternative protein as a complement to animal protein, will remain critical to our ability to meet the growing demand for a range of protein products—as well as consumers' desire for options."
Elizabeth Gutschenritter, Managing Director, Alternative Protein at Cargill
"The alternative protein market will build on the success of burgers to expand into other "meat" categories such as chicken, whole muscle and processed meats such as sausages, hot dogs and deli meats, as well as seafood. The opportunity and challenge to alternative protein innovators is to ensure these product solutions are as delicious, nutritious and sustainable as possible."
Jim Thorne, President at Nourish Ventures and SVP of Partnerships and Strategy at Griffith Foods
Manufacturing Companies Weight in on Alternative Proteins 
"Next year, we anticipate that whole muscle meat analogs will get a foothold in the market while the flavor and texture authenticity of formed products that imitate chicken, pork, and seafood will continue getting closer to their meat counterparts. QSR's and Fast Casual will be challenged to offer more and varied menu items to stay relevant and meet the growing demand of alternative proteins."
Matt Mcguffey, Ph.D, Product Manager, Savory Taste & Wellbeing at Givuadan
"The Plant-Based protein space will continue to evolve quickly and we expect to see 3 trends emerge in 2022. First, as the plant-based protein trend continues to reach more consumers, we believe consumers will push the clean label mega trend more and more into plant-based innovation. Secondly, we expect new pulses to emerge & support sourcing opportunities creating a perfect balance between high volume demand, quality and price value. Thirdly, we expect that the plant-based proteins will continue to expand into many ubiquitous consumer categories and touch all dayparts and disrupt many more food and beverages types than what we see today in the market."
Menexia Tsoubeli, Ph.D., Vice President, Savory Na Firmenich-taste & Beyond at Firmenich
Investors are Putting Money Behind Alternative Proteins 
"To be able to keep up with the high consumer demand and to ensure food security, we foresee that corporations and governments will co-invest more in alt protein production infrastructure and facilities. These large-scale synergies across the value chain will enable companies to produce food in scale and with much less waste in a circular system."
Gerrit Suhlmann, Founding Partner at Bright Green Partners
"In 2022, plant-based products will continue gaining market share. We see growth coming from grocery stores and restaurants selling a greater variety of plant-based products outside of the Beyond Burger and Impossible Burger. Consumers are increasingly seeking options for plant-based cheeses, bacon, chicken, etc. We also see plant-based products diversifying away from just pea and soy protein to a broader assortment of less processed, high-value plant-based or fermented ingredients. Also in 2022, while traditional plant-based meats have not been able to replicate full cuts well yet, we believe we will begin to see full cuts of "meat" made via mycelium fermentation coming to restaurant menus. Lastly, we expect to see cell-ag continue to reduce the cost curve as entrepreneurs continue to solve various challenges in production."
Powerplant Partners
You have until Wednesday, September 15 to register for our virtual Good Food Conference, taking place on September 22-24, 2021. Sign up now to experience the deepest dive yet into alternative proteins!
Register for the Good Food Conference