Collecting elevation data with as much accuracy and resolution as is vital to understanding farmland. Elevation plays a large role in how crops grow throughout the growing season. Elevation may affect the type and amount of sunlight that plants receive, the amount of water that plants can absorb and the nutrients that are available in the soil. As a result, certain plants grow very well in high elevations, whereas others can only grow in middle or lower elevations.
Are you looking at new parcels of farmland or trying to figure out the best way to manage your current fields? Take a look at CIBO's elevation maps. With CIBO, anyone can quickly and easily discover the different elevations and adapt their management practices accordingly. Take a look at a few elevation maps below. 
Minnesota
Roseville TwpGrant Co, MN140032500 45°50′9″N 95°59′28″W
/mp/land_detail/mn:051:140032500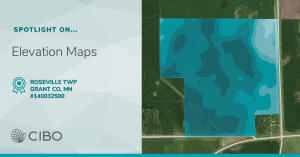 Missouri
Washington TwpDeKalb Co, MO000014511500000001000 39°44′58″N 94°29′11″W
/mp/land_detail/mo:063:000014511500000001000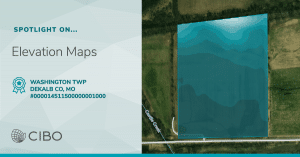 North Dakota 
Ibsen TwpRichland Co, ND15000002923001 46°20′39″N 96°46′58″W
/mp/land_detail/nd:077:15000002923001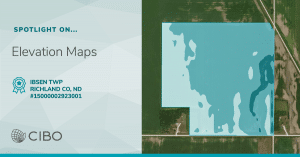 Ohio
Plain TwpWayne Co, OH4300195000 40°45′30″N 82°5′45″W
/mp/land_detail/oh:169:4300195000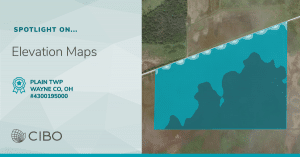 Registration to CIBO is free. See your land. See a simplified value. See CIBO.