By Adam Pasch
CIBO has been running monthly yield predictions since April. As predicted, the 2021 growing season started out well, with excellent conditions throughout the corn-growing region, allowing crops to get in the ground early. With crop development entering a crucial stage of yield determination in June, significant rainfall (> 8 inches more than normal) was observed in the midwest and the southeastern United States, which was good news for the primary corn and soybean growing areas (Figure 1). Additional rainfall was observed in Illinois and the southeastern US during July.
June 2021                                                                      July 2021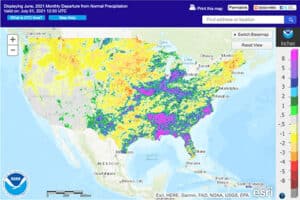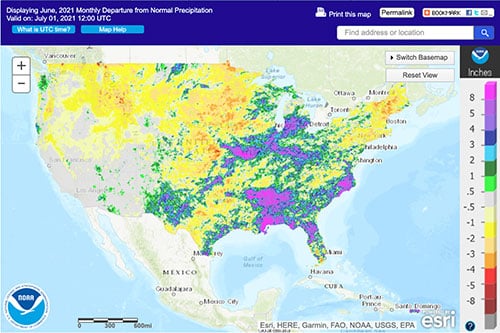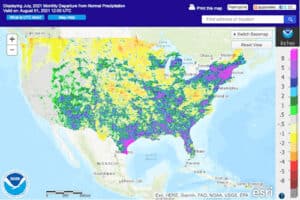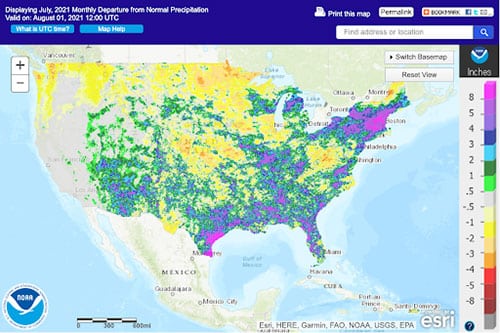 Figure 1. Monthly Departure from Normal Precipitation from NOAA's Advanced Hydrologic Prediction Service (AHPS) for April and May 2021. 
U.S. Drought Monitor shows an increase in drought in Iowa and the North-Central US. This expanding drought led to lower yield predictions in these locations and national yield numbers below USDA's June/July predictions; while locations in the Southwest have seen some rainfall and decreases in the Exceptional Drought in Arizona due to precipitation from the North American Monsoons in July (Figure 2).
Finally, wildfire smoke transfer from fires burning on the West Coast and in Pacific Northwest transported significant smoke into the Midwest, resulting in below average temperatures and reduced sunlight. Smoke might not have a huge impact on overall yields, but the presence should be noted. Figure 3 is a representative image of the smoke conditions throughout July. The light brown regions in Minnesota, Iowa, northern Missouri, Illinois, and Indiana are indicative of smoke transport.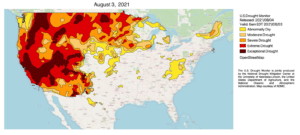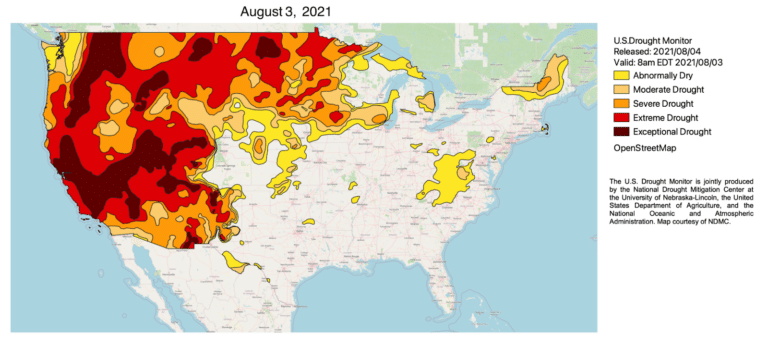 Figure 2. U.S Drought Monitor map for August 3, 2021 obtained from: https://droughtmonitor.unl.edu/CurrentMap.aspx.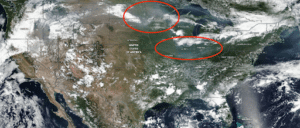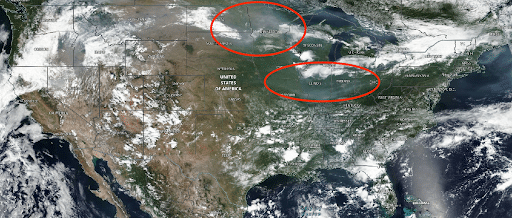 Figure 3. Snapshot from NASA Worldview Corrected Reflectance (True Color) for July 27, 2021 from Suomi NPP/VIIRS satellite. We acknowledge the use of imagery from the NASA Worldview application (https://worldview.earthdata.nasa.gov), part of the NASA Earth Observing System Data and Information System (EOSDIS). The light brown areas are indicative of smoke (red circles). https://go.nasa.gov/3iz03Co
What does the USDA think about the current conditions?
The USDA raised the overall corn conditions from 62% to 64% in the July report. the biggest movers were Illinois (up 11%) and Missouri (up 6%), while Indiana, Iowa, and the Dakotas fell slightly compared to the June report. No change in soybeans but again Illinois was up 11%. The Crop Progress and Condition for corn from USDA (Figure 4) show a decrease in the percentage of crops that are Good + Excellent have fallen to levels not seen since 2019 for both corn and soybeans.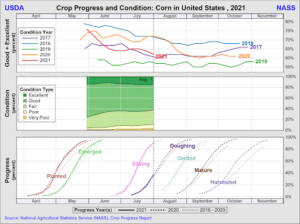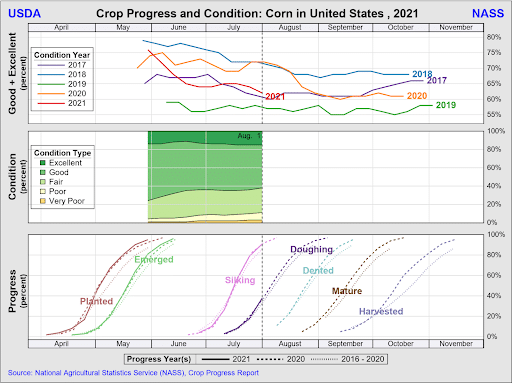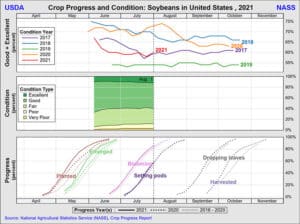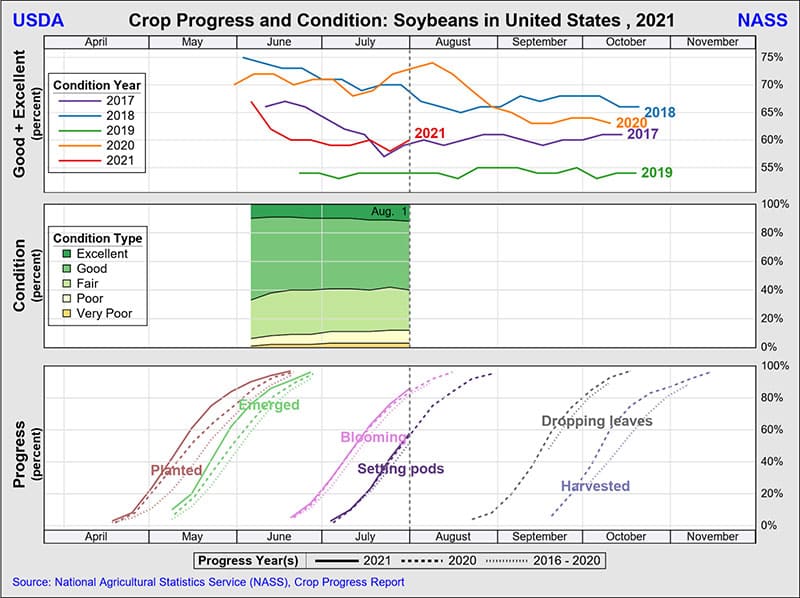 Figure 4. National Agricultural Statistics Service (NASS), Crop Progress Report for Corn (top) and Soybeans (bottom) for August 2021.
Make sure to check back in September, the day before the USDA WASDE is released to access CIBO's forecasted numbers. The USDA regularly announces national yield insights which tell you what will likely happen. CIBO's monthly and real-time forecasts are able to tell you where and why yields are likely to happen. This insight creates new opportunities for actionable and hyper-local farming, agribusiness, sustainability and trading decision-making. 
About the Author
Adam Pasch is the Director of Product Management – Platform at CIBO, a science-driven software startup. He is a Certified Consulting Meteorologist from the American Meteorological Society. Prior to CIBO, Dr. Pasch was the Weather Data Strategy and Operations Manager at The Climate Corporation and a Meteorologist Project Manager at Sonoma Technologies, Inc. He holds a Doctorate, Masters, and Bachelors of Science in Meteorology from Saint Louis University.