Kate Willis, an Environmental Scientist at CIBO Technologies, has built her career around her passion for the earth, nature, and National Parks. Her deep professional background is in geospatial and remote sensing analysis to understand the dynamics behind the world's natural landscape. Coming to CIBO, she has been able to take her academic knowledge of mapping and turn it into a commercial product.
What drew you to CIBO?
"After graduate school, I was searching for a role that would allow me to apply science in a field that could have a direct impact on an industry. Through LinkedIn, I came across the position for an Environmental Scientist at CIBO Technologies and thought it was the perfect fit because it combined my passion for GIS, remote sensing, and sustainability. It was a chance to challenge myself because I have an academic background in plants and natural science, but agriculture was foreign to me. CIBO has offered me the chance to see how scientists and engineers can work hand in hand to build a product that's applied to the real world."
What are your primary responsibilities at CIBO?
"As an environmental scientist, each day is different as I collaborate across a group of developers, data scientists, and agronomists. My favorite days are working on creating beautiful maps that show the current and future potential of the land. Part of my role at CIBO is researching and analyzing where CIBO should expand their remote sensing capabilities and how to bring that research into the products. This research regularly pulls on my graduate school background by evaluating cutting edge technologies that are hitting the market. It has taken me on an exciting path of learning to work closely with the back-end technical engineering. My work also brings me in close alignment with the modeling team to conduct scientific analysis that is incorporated into CIBO's products along with making maps that pictorially display the scientific analysis. I'm very excited that we are increasing our focus on land sustainability since I think there are a lot of opportunities in agricultural sustainability."
How did you get into your line of work?
"Ever since I was a little kid, I was drawn to science, math, and nature. While attending Clark University, I realized that you could model environmental systems with math. This interest drove me to major in Environmental Science where I conducted fieldwork and was able to collect data samples from nature. After college, I participated in a research program in Siberia where I took water samples to help figure out how carbon is transported through river systems to the Arctic Ocean."
"After Siberia, I was motivated to apply to graduate school to further follow my passions of science and nature. Attending grad school gave me the chance to play with maps and geospatial analysis in addition to working in the field. In grad school, I started working with local National Parks doing fieldwork and implementing environmental policy. It provided the chance to deepen my knowledge of remote sensing, plant growth, and how all these factors interact with the climate."
What is one thing that would surprise people about your field of work?
"Others are often surprised that I work in agriculture, especially in Cambridge! With my background in earth science, nature, and National Parks I had never thought it would apply to agriculture, but improving food security and increasing sustainability in the ag-world is very important to me. Technology today enables us to study the Midwest and agriculture from any location."
What is your most memorable moment at work?
"The team of scientists gathered in St. Louis to go out to CIBO's test fields in Missouri and Illinois. I spoke with farmers about their operations and was able to experience all parts of farming. I was even able to sit on a tractor and a combine to see everything being done during the harvest. It was fun to go back to my roots of fieldwork in a different capacity from grad school."
What kinds of things do you think we should be doing to encourage more women to pursue a career in science?
"Good things are happening to support women in STEM, but it takes time. Watching more women hold senior and middle-management roles has helped give me hope for the future. It's also promising to see how women leaders are becoming much more prevalent in the tech space. I hope over the next ten years, we see more women take on leadership roles in science and technology."
What advice would you give to young people interested in a career in science?
"Get out there and do what you love. For me, I conducted as many informational interviews as I could with many people from different scientific backgrounds. It gave me the chance to find out what their path had been like. The talks were partially looking for jobs, and partially to see what it was like after academia. I always planned to follow a career in industry, and it helped to speak with others face to face about how they have followed their passions."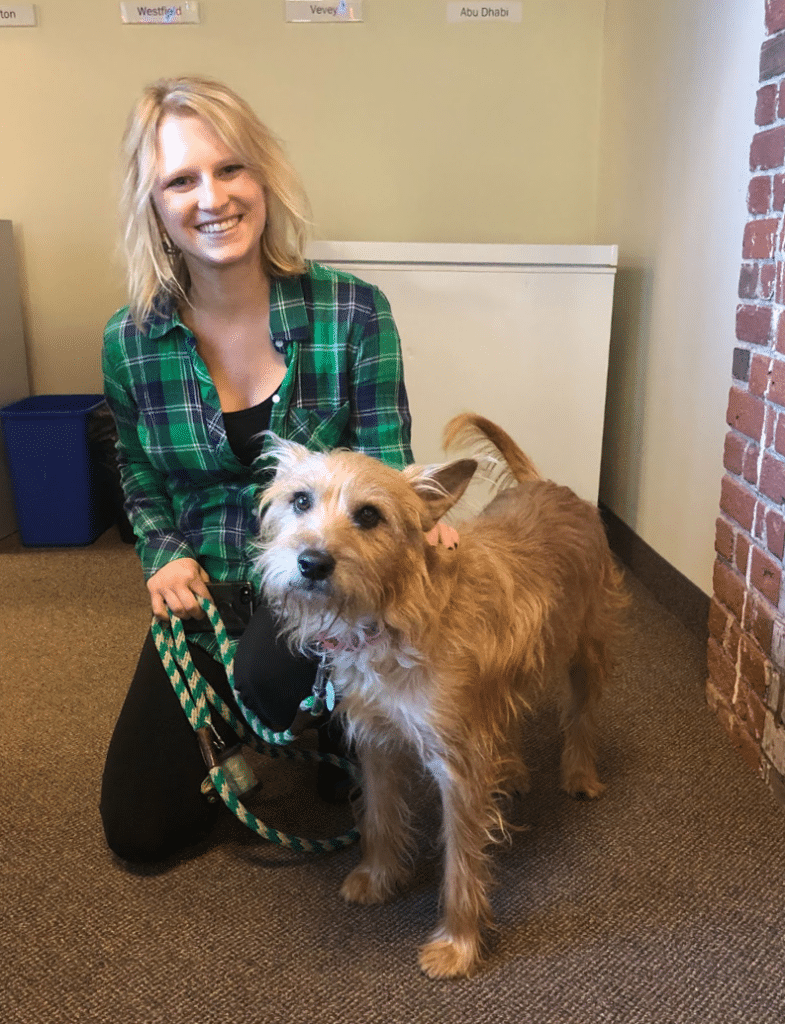 What are your hobbies and do they influence your work?
"I love hiking, camping, and being outside. On weekends, you can find me hiking through the east coast or taking vacations to National Parks. These activities influence my work because I like mapping and seeing plants in nature, and it's important to me to understand and protect that environment."
What do you find the most rewarding about your work here?
"Having the opportunity to learn something new every day has been the most impactful. I've learned about agriculture in general, how a website works, how to work with engineers, understanding engineering language, and how to use geospatial data in tech. It's very different from academia, and a very rewarding culture to work in."
"I also love CIBO because of the pet-friendly culture that allows me to bring my dog Tess to work each day."
Do you want to join the CIBO Technologies team? Browse and apply for open roles at https://www.cibotechnologies.com/careers/
About Kate Willis
Kate Willis is an Environmental Scientist at CIBO Technologies, a science-driven software startup. She has experience in improving agricultural technology solutions by integrating GIS, remote sensing, climatology, and ecological principles. Prior to CIBO, she worked for the Massachusetts Bay Transportation Authority (MBTA), University of California, Los Angeles (UCLA), and the National Park Service. She holds a BA in Environmental Science along with an MA and Ph.D. in Geography from the University of California, Los Angeles.